Boutique hotel showcases dogs for adoption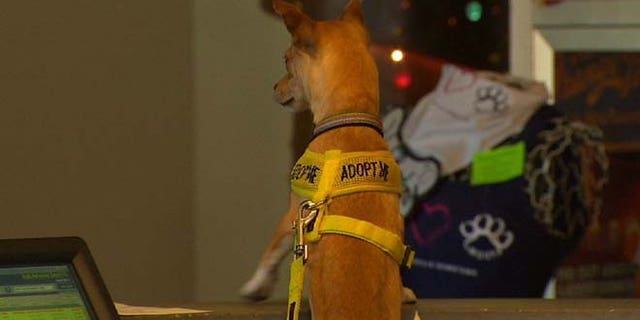 ASHEVILLE, N.C. – Wearing a yellow vest with the words "adopt me," a Chihuahua named Taco greets guests in the lobby of a boutique hotel.
The Aloft Asheville Downtown has partnered with a local animal shelter to showcase one dog at a time. Organizers hope that each dog will win the heart of a hotel guest and find a permanent home.
"When you go to a shelter and find multiple animals in the shelter, the six, eight or 10-year-old dog might be overlooked," said Kim Smith, president of Charlie's Angels Animal Rescue. "But if you come to the hotel and you walk up to the reception desk and you see a single dog, your eye is on that single dog."
Already pet-friendly, the hotel initially partnered with Charlie's Angels back in August for a short-term community service project. But the program exceeded expectations.
Eight months later, the hotel is still featuring rescue dogs. The program is maintaining a 100 percent adoption rate for its canine guests and earning rave reviews from its human customers.
"It's one of the things that draws me to actually stay here," said hotel guest Jen Stiles. "I think it's an honorable thing that the Aloft does with these pets."
Stiles said she enjoys meeting the dogs during her stays and then hearing about where they end up.
"We certainly didn't intend it as a marketing opportunity," said David McCartney, the hotel's general manager. "But it has helped us win friends who have mutual interest in the care of dogs."
The hotel is now looking to expand the program to other properties in other cities.
"We're all humans. Most of us really love dogs," McCartney said. "Whether somebody's traveling for a convention or a leisure traveler, I think they have an opportunity to fall in love with a dog no matter what setting they're in or what their reason is for traveling to a hotel."
A traveler from Charlotte, N.C., decided to adopt Taco, making him the 22nd dog to go home with a hotel guest. An additional two dogs have been adopted by hotel staff.
"There is a job hazard to go home with a dog," McCartney said. "But it's a pleasant one."