Boston police officer wounded in gunfight with bombers thanks his supporters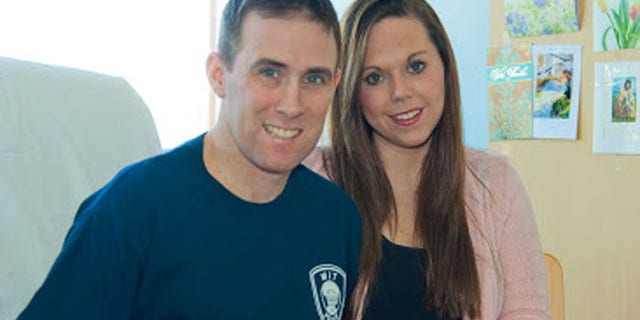 The Boston transit police officer severely injured in a shootout with the marathon bombing suspects thanked his supporters and fellow officers in an extended post on his union's website.
Richard "Dic" Donohue, 33, lost nearly all his blood during the late night gunbattle with the bombing suspects that spanned April 18 and April 19. Officials have said he stepped out of his police cruiser and exchanged gunfire with the suspects and was hit with a single bullet to the right thigh that severed three major blood vessels.
First responders conducted CPR at the scene to restart his heart.
A message from Donohue, posted online on Wednesday, reads: "I cannot begin to properly thank everyone involved in my recovery, as many fearless individuals stepped up and acted heroically that night."
He thanked his fellow law enforcement officers from several departments and fire department personnel and first responders "all of whom put their own lives on the line to save mine. In the midst of a firefight they dropped to the ground and assisted me when I was shot."
He went on to thank his family:
"My family got through those first few days through the community's outpouring of prayers and endless support. I am told that when I arrived at the hospital I had almost no blood and no pulse, and the team of medical experts at Mount Auburn miraculously brought me back to life. I am now awake, moving around, talking and telling jokes (much to my wife's dismay)."
Donohue also talked about his recovery, and joked about using the injury as an excuse to get out of household chores.
"I am able to walk briefly through the use of a walker. My pain varies day to day and I still have a long road of rehab and recovery ahead, but I am optimistic I'll recover back to 100 percent. The bullet will remain in my leg as it is not obstructing anything or causing any pain. However, my wife has informed me that the bullet will ultimately cause her the most pain, as I will be using it to get out of things such as mowing the lawn, doing laundry and painting the deck."
He also sent his support to the family of Sean Collier, the 26-year-old MIT police officer killed during the same shootout with the suspects.
"My wife and I send heartfelt condolences to the Collier family. Sean was one of my good friends out of the Academy and I arrived on scene soon after Sean's attack. There is not a single day we are not thinking or speaking of Sean. And we are certain Sean was watching over me and assisted in saving my life. He could not save himself that night, but Sean could save me," Donohue wrote.
"We want to again thank everyone for their prayers and concerns. I, however, have very little memory of the week's events and am working with officials to piece everything together. When the full story of that evening is accounted for, it will be wilder than any movie you have ever seen. And it will contain more heroes."
The Associated Press contributed to this report