Boston Marathon runner looking for man she kissed on dare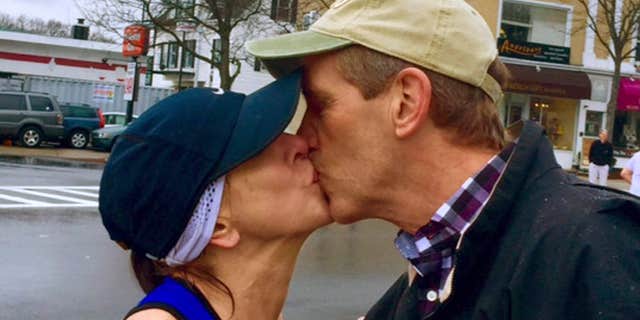 NEWYou can now listen to Fox News articles!
A Tennessee woman who ran the Boston Marathon is looking for the man she kissed on a dare.
Barbara Tatge was dared by her daughter, Paige, to kiss a random, good-looking man and take a photo of it as she ran her first Boston Marathon April 20.
Tatge agreed to her daughter's dare. "That little kiss gave me wings on my shoes for the rest of the race," Tatge told The Associated Press Friday.
Now, Paige Tatge is determined to find the mystery man, who left an impression on her mom. This week, the Arizona State University graduate took to social media and made outright appeals to Boston-area media. Paige Tatge said it's a birthday present for her mom.
"The response has been great so far," she said by email. "I can't believe the responses from random people wanting my mom to find this man. It's been great."
Barbara Tatge says she's a little embarrassed by the attention.
"I don't want it to seem like I'm this desperate woman that's seeking this man," she said. "But my daughters are so sweet, and they're always looking out for my best interests."
Tatge doesn't want to put the man in an awkward position if he is in a relationship or married. "I would want his wife to know I was definitely the aggressor," she says. "I mean, I approached him, you know?"
However, she were this dare leads. Tatge also says she regrets not taking the moment to get the man's phone number after he yelled out for her to call him as she continued to run the race.
"I'd like to find out who he is, regardless of how this all turns out," Tatge says. "Am I kicking myself? Maybe just a little."
Paige says she's not surprised her mom took her up on the challenge.
"My mom is the definition of a risk-taker! I was more surprised that the man was so handsome," she wrote. "I dared my mom to kiss a Wellesley man because my mom truly wanted to have a good time at the Boston Marathon. The race wasn't about time to her. It was about having a great experience. I wanted to help her have some fun along the run!"
The Associated Press contributed to this report