Boston Firefighter Catches Boy From Third-Floor Window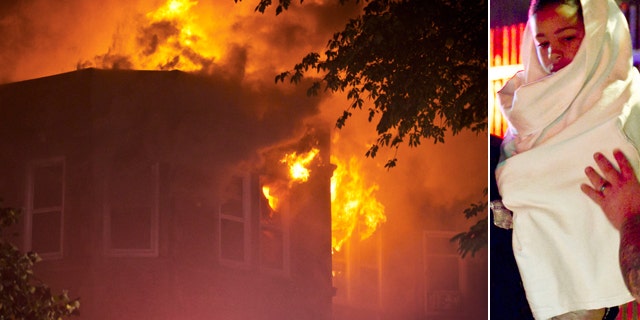 Firefighters in Boston rescued at least 15 people from a six-alarm blaze in the city's Roxbury section, including a 6-year-old boy who was dropped from a third-floor window.
Herbert and Judith Lamb were forced to drop their 6-year-old grandson, Xavier, from the window of their third-floor apartment into the arms of a waiting firefighter.
"Thank God I caught him. I've never had to do that before, and I hope I never have to do it again," Boston Fire Lt. Glenn McGillivray, told The Boston Globe. He said firefighters knew Judith Lamb wouldn't be able to hold on to the child until more help arrived, so they told her to drop him. Then they used a ladder to rescue her.
Police have released the identity of a man suspected of setting the fire that injured about a dozen people and left about 75 people homeless.
Mohamed Abdul Jabar, of Medford, went to Boston Medical Center and sought treatment shortly after the early morning fire. Police say the 28-year-old Jabar was transferred to the burn unit at Massachusetts General Hospital, where he's being treated in intensive care with second-degree burns to his arms, hands and face. Police say his injuries don't appear to be life-threatening.
Police spokeswoman Elaine Driscoll says a preliminary investigation indicates that Jabar set the fire as part of a failed suicide attempt.
Jabar is expected to face charges including arson and attempted murder.
Residents who escaped said they heard an explosion at about 1 a.m.
A short time later, a man showed up at Boston Medical Center with burns and said he started the blaze, Fire Department spokesman Steve MacDonald told The Associated Press. It was not clear if the man lived in the building or was visiting.
MacDonald said the windows and frame were blown out in one corner of the building and bricks littered the street. More than two dozen apartments were damaged or destroyed.
All residents were accounted for, firefighters said.
About 160 firefighters were called to the scene. A temporary shelter was set up in the city for residents displaced by the fire.
MacDonald could not immediately confirm initial media reports that the fire may have been started after a gas line to a stove was cut.
Lt. Tom Blake, a 21-year veteran, told The Boston Globe that he had never worked another fire with more rescue situations.
"They kept coming, one after another," he told the newspaper. "We took four people out that one window."
Another firefighter said the building's childproof screens made some of the rescues difficult.
"We just did our best to open them any way we could," firefighter Greg Conlan told the newspaper.
The Associated Press contributed to this report.