Boston-area gas explosions kill at least 1, injure 20, trigger evacuations, officials say
At least one person was killed and more than 20 were injured in Massachusetts Thursday after a series of gas explosions tore through several communities outside Boston, officials said.
Leonel Rondon, 18, was inside his car when a chimney from a house explosion fell on his vehicle, the Essex County District Attorney's office said. Rondon was taken to a hospital, where he was pronounced dead.
At least 13 patients were taken to Lawrence General Hospital as a result of the gas fires. The hospital said one critical patient was taken to a trauma center, while the other injuries ranged from minor smoke inhalation to blast trauma.
Later, FOX station Boston 25 reported that more than 20 people had been injured.
Preliminary numbers estimate that between 60 and 100 homes in the Merrimack Valley caught fire in the towns of Lawrence, Andover and North Andover, Methuen Police Chief Joseph Soloman said.
Massachusetts State Police (MSP) confirmed on Twitter that at least 70 locations were affected by fires, explosions and "investigations of gas odor."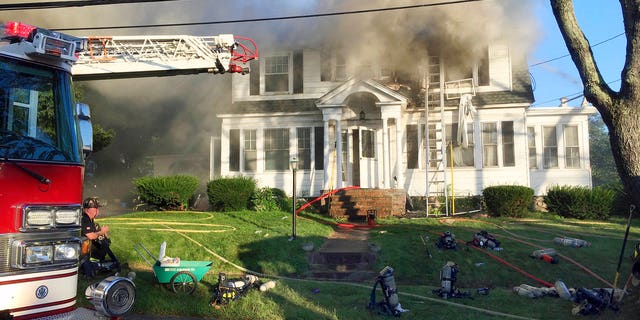 Residents in the aforementioned towns that are serviced by Columbia Gas of Massachusetts "should evacuate their homes immediately if they have not already done so," police advised. Gas service was shut down by the company to roughly 8,000 customers.
"Numerous evacuations of neighborhoods where there are gas odors are underway," MSP tweeted. Columbia Gas was working to depressurize its gas lines, which "will take some time," while National Grid cut electricity to the three towns "to limit spark-started fires."
Solomon — who noted there were no fires in Methuen but the town's first responders aided areas in need — said that in Lawrence alone, there were roughly 20 to 25 homes on fire. He said there were so many fires "you can't even see the sky."
In the town of Andover, firefighters responded to 38 fires total — all of which have been extinguished. "At peak, 18 fires were burning at the same time," city police said.
Local officials said at least one firefighter and two civilians were injured in the "gas-related fires."
The North Andover Police Department advised residents with gas service in their homes or businesses to "please exit the building until further notice."
Some residents were evacuated from their homes to senior centers and middle schools as officials investigated the situation, police said.
Merrimack College, which is located in North Andover, advised that "in an over abundance of caution," students and faculty needed to evacuate all buildings on campus, but later said all buildings were "safe for re-entry."
Gov. Charlie Baker's office said the governor was "actively monitoring the situations in the Merrimack Valley and is communicating with first responders and public safety officials."
The Columbia Gas company announced earlier Thursday that it would be upgrading gas lines in neighborhoods across the state, including the area where the explosions happened. It was not clear whether work was happening there Thursday, and a spokeswoman did not immediately comment.
Fox News' Stephen Sorace and Andrew Fone and the Associated Press contributed to this report.