Border Patrol agents may have been struck by truck, Texas sheriff says
Two U.S. Border Patrol agents seriously injured in Texas last month may have been struck by a tractor-trailer, a local sheriff says.
That view contradicts with another official's earlier theory that the pair may have been attacked with blunt objects.
Culberson County Sheriff Oscar Carrillo told the Dallas Morning News he thinks a tractor-trailer may have inadvertently struck the agents, who were found injured the night of Nov. 18 in a culvert near Van Horn in West Texas, about 30 miles from the U.S.-Mexico border.
Carrillo was among the first responders at the scene.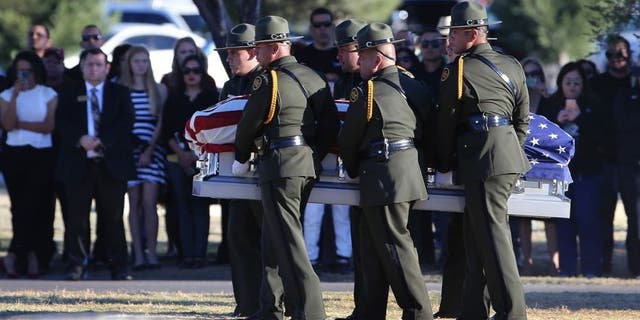 Agent Rogelio Martinez, 36, later died of traumatic head injuries and broken bones, while his partner -- who remains unidentified – was hospitalized for days and reportedly has no memory of what happened.
"From the beginning we were radioed to assist in the incident as an injury, not an assault," Carrillo told the newspaper. "That's the way it was communicated to us."
He added: "If this was an assault, believe me, as sheriff, I'd be the first one out there emphasizing safety in our community and with our deputies, pairing them up."
Martinez and his partner were patrolling along heavily traveled Interstate 10, where accidents are commonplace because of wind drafts, or drivers overcorrecting, Carillo said.
It's unclear why the agents were in the area. U.S. Customs and Border Protection said only that they "were responding to activity."
In an interview with Fox News, Brandon Judd, president of the National Border Patrol Council, said the agents appeared to have been "ambushed" by illegal immigrants who bashed the agents' heads with blunt objects -- possibly rocks.
"We don't know exactly what happened because we weren't there. However, just from agents that were working in the area, reports are saying it was an attack and it would appear to be an ambush," Judd said, adding that "there's a high likelihood this was an assault on the agents."
President Donald Trump, U.S. Sen. Ted Cruz and Texas Gov. Greg Abbott have cited the attack theory, with Trump mentioning the incident in arguing for a border wall.
Abbott has offered a reward of up to $20,000 "for information leading to the arrest and conviction of the person or persons responsible" for the attack.
Special Agent in Charge Emmerson Buie Jr. in the FBI's El Paso, Texas, office has said investigators were treating the incident as a "potential assault" but would not rule out other possible scenarios.
Federal officials have released few details about the case.
Fox News' Katherine Lam and the Associated Press contributed to this report.