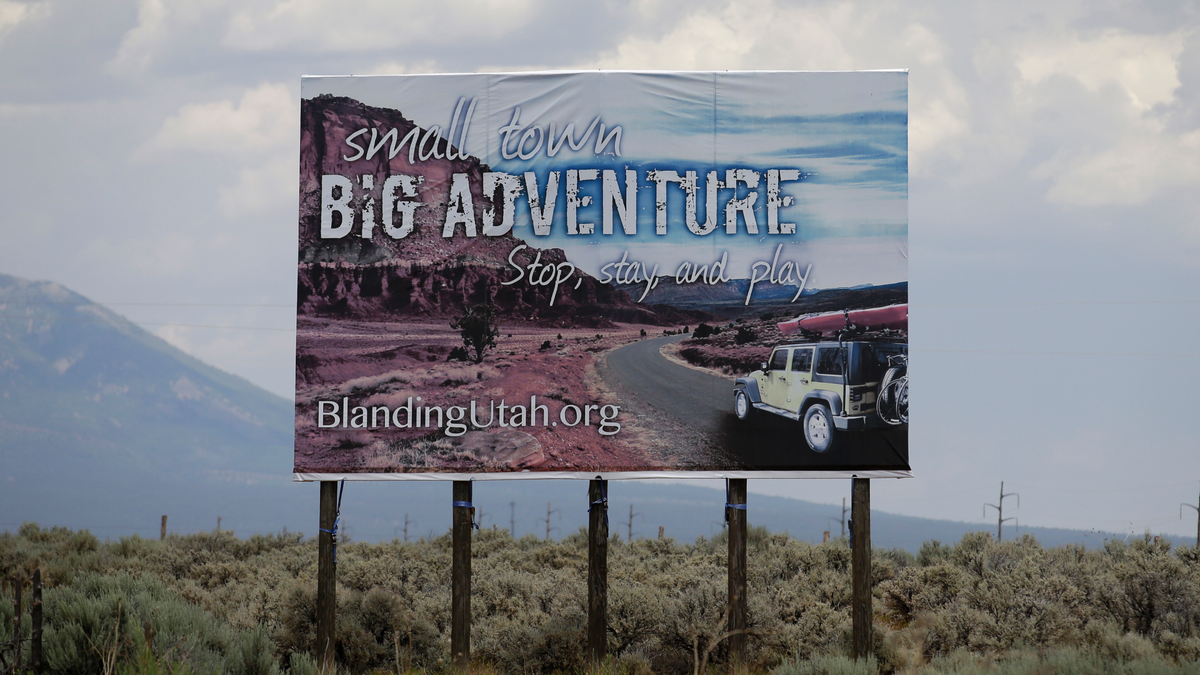 BLANDING, Utah – The rural Utah city of Blanding, one of the last "dry" communities in the Mormon-majority state, will ask voters Tuesday whether to allow beer and wine sales in town for the first time in more than 80 years.
Even though most locals are Mormon and their faith teaches its members to avoid alcohol, some restaurant and hotel owners say the city of 3,500 people needs to accommodate drinkers and the influx of tourists.
"I think that we shouldn't be imposing our standards on other people," said Sharon Guymon, a restaurant owner pushing for the change after years of customer complaints, including tourists sometimes storming out of her steakhouse after being denied a glass of wine.
Opponents of alcohol sales, like longtime resident and health department inspector Rick Meyer, said the prohibition is key to the city's character and public safety.
"You don't see anybody drunk walking up and down the streets," Meyer said.
Blanding is a waypoint for visitors traveling between Denver, southern Utah's national parks and the Grand Canyon. It's a conservative community that bills itself as the "Base Camp to Adventure," on vast desert landscapes nearby, much of which is controlled by the U.S. government. The town itself has been a hotspot in decades-old debates over who controls land in the West, including the newly declared Bears Ears National Monument.
Besides worries about public safety and health, residents opposed to alcohol sales say the prohibition may curb visitors flocking to the area to see the new monument and prevent Blanding from turning into Moab, the red rock outdoor recreation mecca about an hour north that many in Blanding see as an out-of-control tourist trap.
"We want to be able to control the tourism a little more," said pharmacist Dana Nielson. "Once alcohol is available, that opens it up for all these huge motels and everything. Especially again, with the Bears Ears situation as it is."
Dallin Redd, owner of a hardware store and a supporter of allowing alcohol sales, said he worries broad opposition in town to the monument may persuade residents who would have otherwise voted for alcohol sales to decide to keep it dry.
"People are pretty nervous about the monument coming in and they don't like to see a lot of change," he said.
City officials say the town has been dry since the 1930s. Talk of repealing the prohibition has bubbled up periodically since then, including a 1983 city-commissioned opinion poll of residents that found overwhelming support for keeping the ban.
"It's probably time to see if the opinion has changed," said Joe Lyman, a city councilman and the only candidate running for mayor in Tuesday's election.
Many residents appear to be keeping their opinions to themselves.
Robert Ogle, a city councilman who suggested the question on alcohol sales be put on the ballot this year, said he's shocked there's been almost no public debate.
"I thought this would be a tinderbox," Ogle said. "No one has said anything."
The debate follows similar ones in other dry communities. Last year voters in the village of Ephraim, Wisconsin's last dry municipality, lifted its ban on alcohol sales.
Around the country, nine states have entire counties that are dry, while at least a dozen states have some dry municipalities, according to the National Alcohol Beverage Control Association.
Utah doesn't have any dry counties and only has about half a dozen dry communities, mostly small towns, according to Utah's Department of Alcoholic Beverage Control spokesman Terry Wood.
If Blanding votes to allow alcohol sales they would likely start in summer 2018, according to city manager Jeremy Redd.
Redd notes that residents and visitors who drink can already work around the city's ban because a convenience store 3 miles outside of town sells beer and a state-run liquor store is about 20 miles away.
Still, locals say visitors are surprised and sometimes angry at their sober options in Blanding.
In her restaurant, Guymon offers several varieties of non-alcoholic beer just so she can offer visitors a taste of what they're used to.
And Guymon still may be prohibited from serving alcoholic drinks if the ban is lifted. A preschool sits across the street from her restaurant so she'd likely violate state rules about serving alcohol that close to schools.
Lyman, the city councilman, said even if the town votes to stay dry, he thinks attitudes toward alcohol are relaxing and the town will eventually allow it.
"If it's not now, then it will be 10 years from now," he said. "And I think 10 years after it changes, we'll look back and say it wasn't that big of a deal."
___
Follow Price on Twitter at https://twitter.com/michellelprice