Bold thief steals rare, colorful butterfly from Ohio conservatory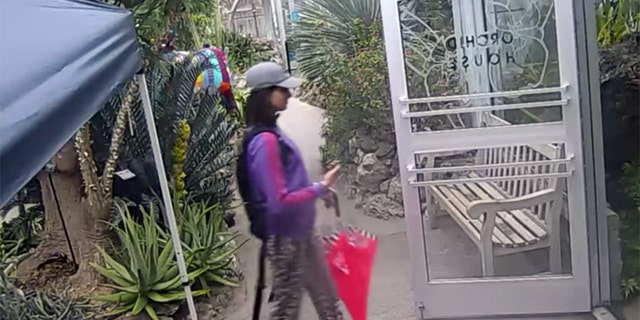 NEWYou can now listen to Fox News articles!
A brazen thief was caught on camera stealing a rare butterfly from an exhibit at an Ohio conservatory, according to reports.
A woman in a baseball cap made off with a bright-colored Blue Morpho African Butterfly last Sunday at the Krohn Conservatory in Cincinnati, leaving police and biologists dumbfounded, local media reported.
"I have never heard of anyone stealing a live butterfly from a butterfly show," University of Cincinnati biology professor Stephen Matter told WCPO-TV.
The surveillance video footage shows the thief slipping in and out of the exhibit, according to Fox 19 Cincinnati. An employee is then seen confronting the woman and attempting to stop her from leaving, but the woman was able to get away.
The butterfly is neon blue in color and its wings have black edges with white dots. It is native to Central and South American rainforests and has a life cycle that lasts about 115 days.
The group Rainforest Alliance says the blue morpho's beauty attracts artists and collectors from all over the globe. A framed blue morpho can sell online for as much as $60.
The conservatory is now holding its annual special butterfly show. This year's show is called "The Butterfly of Madagascar."
The Associated Press contributed to this report.