Boehner invites Israeli leader to address Congress on Iran, rebuffs Obama on sanctions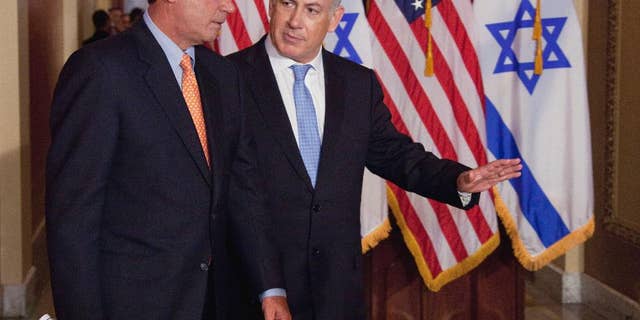 WASHINGTON – Rebuffing President Barack Obama on Iran, House Speaker John Boehner said Wednesday he had invited Israel's prime minister to address a joint meeting of Congress next month about the threats from Tehran and radical Islam.
The Republican leader released a letter extending the invitation to Benjamin Netanyahu for Feb. 11. Boehner also told a private meeting of GOP lawmakers that Congress would move ahead on new penalties against Iraq despite Obama's warning that any legislation would scuttle diplomatic negotiations over the country's nuclear program.
"You may have seen that on Friday, the president warned us not to move ahead with sanctions on Iran, a state sponsor of terror," Boehner told colleagues. "His exact message to us was: 'Hold your fire.' He expects us to stand idly by and do nothing while he cuts a bad deal with Iran.
"Two words: 'Hell no!' ... We're going to do no such thing," the speaker said.
The U.S. and other Western countries believe that Iran is intent on trying to develop nuclear weapons. Tehran claims its nuclear program is peaceful and exists only to produce energy for civilian use.
The high-stakes invitation came just hours after Obama, in his State of the Union address, told Congress that he would veto any sanctions legislation and he urged Congress to delay further penalties against Iran.
Obama last week warned that rash action by Congress would increase the risk of a military showdown with Iran, and that "Congress will have to own that as well." In an unusual step, British Prime Minister David Cameron had called members of Congress to urge them to hold off on sanctions.
The White House had no immediate comment on the Boehner invitation. Typically, requests for foreign leaders to address Congress are made in lengthy consultations with the White House and the State Department.
Boehner said in a statement that Netanyahu "is a great friend of our country, and this invitation carries with it our unwavering commitment to the security and well-being of his people. In this time of challenge, I am asking the prime minister to address Congress on the grave threats radical Islam and Iran pose to our security and way of life. Americans and Israelis have always stood together in shared cause and common ideals, and now we must rise to the moment again."
Boehner is enlisting Netanyahu as a powerful messenger who could argue for a tougher stance toward Iran and an individual who carries considerable sway with Congress. The prime minister repeatedly has warned that a nuclear deal could undercut Israel's security.
Netanyahu has addressed a joint meeting of Congress on two previous occasions, in July 1996 and May 2011.