'Bloody handprints' show teen girl stabbed 80 times, shot by cousin tried to escape attack, officials say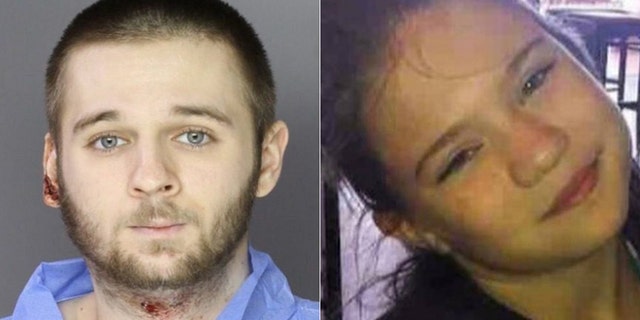 The bloody handprints of a teen girl allegedly stabbed more than 80 times and shot once by her cousin were discovered on a bathroom window -- a gruesome testament to her failed bid to escape, court documents revealed.
Colin Haag III, the 20-year-old cousin of Autumn Bartle, 14, faces numerous charges from the March 30 incident in Bristol Township, Penn., including homicide, kidnapping and unlawful restraint.
Court documents say investigators found "bloody handprints on the bathroom window" and "a copious amount of blood in the bathroom" at Bartle's home, where Haag lived in the basement, according to the Philadelphia Inquirer.
The documents allege Bartle was trying to flee from Haag and someone "grabbed the window sash and closed and locked it," the Modesto Bee reported, citing an affidavit.
The motive for the attack is still unknown.
"We'll continue to work on getting that answer. But sometimes, as we stand here in this case, you look into the face of a killer and you don't get answers. You see only darkness," Bucks County District Attorney Matthew D. Weintraub said.
In addition to the scene in the bathroom, blood reportedly was found on bedding and walls throughout the Bucks County home.
When Bartle's mother arrived there around 6:40 p.m. that night, she found her daughter unconscious and bleeding on the living room floor. Bartle was then rushed to a hospital, where she died three days after the attack.
An autopsy revealed she died from a gunshot wound to the head and was stabbed more than 80 times, according to the district attorney's office.
Haag, who wasn't at the home when Bartle's mother arrived, was spotted by Bensalem Township police around 10 p.m. that night walking along a road in a nearby town.
Court documents viewed by the Philadelphia Inquirer said responding officers heard a gunshot and believed Haag was firing at them. They later found out he had fired a round into his own throat "because he didn't want to go to jail," documents said.
Haag was charged when he was released from a hospital -- the same day Bartle died.
Police had also found Haag in possession of two pistols he allegedly stole from the attic bedroom of Bartle's father. They said the bullet fired into Bartle's head belonged to one of them – a .380-caliber Smith & Wesson Bodyguard.
Haag was also found carrying a notebook stained with blood that was linked to Bartle's DNA, with the message: "this is the last of Slim that's all you get it's the end 4 me," the Philadelphia Inquirer reported, citing court documents and police statements.
Haag is set to appear in court Wednesday.
An obituary for Bartle said she was an eighth-grade student who "loved to make people laugh" and had a pet cat and dog.
Her funeral was held Sunday.