Black man fatally shot in backyard after officers mistake cell phone for 'tool bar,' police say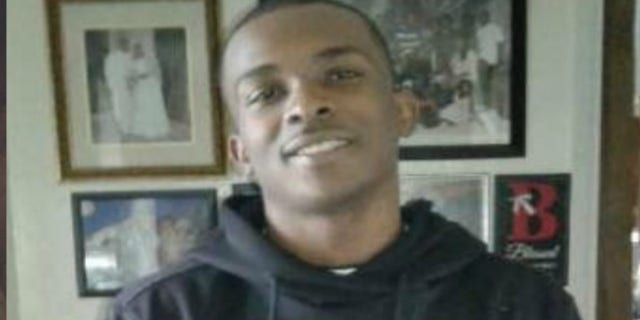 A black man fatally shot by officers in his own backyard was carrying a cell phone, and not a "tool bar," Sacramento police said this week.
Stephon Clark, 22, was shot and killed Sunday night in the backyard of his family's home after police responded to a call of someone breaking car windows, the Sacramento Bee reported.
Police previously said Clark was holding what they believed to be a "tool bar" in his hand before he allegedly "extended [it] in front [of] him" while advancing toward two responding officers.
Police said the officers believed the object was a gun, and, fearing for their lives, opened fire.
Police weren't immediately able to explain their previous claims of a "tool bar" and weren't able to identify the object as a cell phone until late Monday.
On the night of the shooting, two Sacramento County Sheriff's deputies circling the area in helicopters said they spotted a man and told police he shattered the window of a car with a tool bar. The deputies then directed officers on the ground to the suspect's location.
MINNEAPOLIS COP ACTED 'RECKLESSLY' IN FATAL SHOOTING OF AUSTRALIAN WOMAN, PROSECUTOR SAYS
Officers entered the front yard of Clark's residence and found him along the side of the home. A department spokesperson told the Sacramento Bee the man tracked by the helicopter was the same man who encountered the officers.
Police said they ordered Clark to stop and show his hands. Instead he fled from them, they claim, and ran to the back of the building. That's where police said he advanced toward them with an object. The two officers shot Clark several times, and reportedly waited five minutes until additional officers arrived before approaching him. Clark was pronounced dead at the scene.
Family tells a different story
Clark's grandmother, Sequita Thompson, said neither she or her husband heard the officers give their grandson commands before they opened fire.
"The only thing that I heard was 'pow, pow, pow, pow,' and I got to the ground," she said
Thompson said it was normal for Clark and others to enter the home through the backyard. The front yard doorbell, she said, doesn't work and she and her wheelchair-bound husband have "poor mobility," the newspaper reported.
When someone would knock on the back window, she'd normally use an automatic opener to raise the garage door to let them in.
"I opened that curtain and he was dead."
Police had interviewed Thompson for several hours after the shooting, but did not inform her about her grandson's death, she said. It was not until she looked out a window and saw Clark's body she realized what happened.
"I opened that curtain and he was dead," she said. "I started screaming."
City responds
The unidentified officers involved in Clark's death have been placed on paid administrative leave while the shooting is being investigated by the department and homicide detectives. The department's spokesperson said body camera footage of the shooting will be released within 30 days.
The Sacramento County District Attorney's Office, attorney's office and Office of Public Safety Accountability are also conducting investigations of the shooting.
SUSPECT WRESTLES COP TO GROUND BEFORE FLEEING TRAFFIC STOP
"I am always sorry when someone loses their young life," Sacramento Mayor Darrell Steinberg said. "I am also grateful that the officers were unharmed."
Community activists, including Black Lives Matter, joined family members and community leaders on Monday to hold a vigil and protest in Clark's honor.
"He would not want for us to be sad but to come together," said Stephon's older brother Stevante Clark. "He was a good person. He always had jokes for everybody."
The family launched a GoFundMe page to help pay for Clark's funeral expenses.