'Black Hawk Down' veteran now deployed in fight against opioids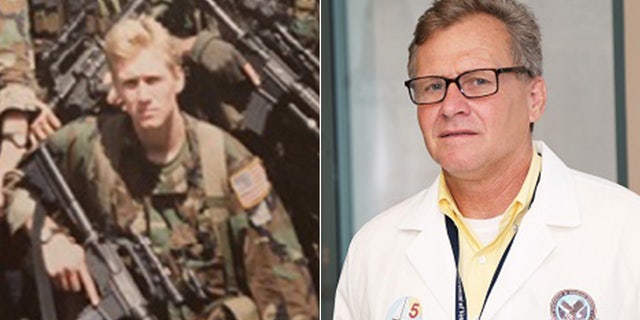 An Army veteran who fought in the Battle of Mogadishu and later was portrayed in the film "Black Hawk Down" is now deploying on a new mission: the war against opioids.
Former Delta Force operator and Master Sgt. Norman Hooten has obtained his doctorate's degree in pharmacy and says he is making the jump to the medical field to help fellow veterans who are suffering.
"I lost a couple of close friends that died of drug related overdoses and they were really good guys – special operations guys," Hooten said in an interview with the Department of Veterans Affairs last week. "Losing my fellow soldiers to substance abuse was almost as bad as losing them in combat. All their talent and potential was lost and I wanted to do something about it."
Hooten on Friday completed his residency at a VA hospital in West Palm Beach, Florida, and is now part of the staff at one of the VA's facilities in Orlando.
Hooten first wanted to pursue a career in medicine in August 2001 when he retired -- but he was soon recalled to active duty after the 9/11 terror attacks. He was deployed to Afghanistan, before spending eight years with the Federal Air Marshal Service and then working as a contractor in Jordan. In 2012 he headed back to medical school to complete his studies, the VA says.
"It's never too late to make a difference and go back to learn and grow," Hooten said. "You should give back until your last dying breath. I started [pharmacy] school at 52 and at 57 I'm finishing up my residency."
Hooten said during an Army event in 2013 that one lesson he took from the Battle of Mogadishu was to be creative and adapt to any situation.
"Train like you fight," he said. "Don't train like you think you're going to fight. Don't train like you want to fight. Do a real good analysis of the enemy, because he's 50 percent of that equation, and then train like you will fight. Get used to being creative and adapting to the enemy's actions."
Now he is telling the VA that he "can't stand idle while veterans suffer with addiction."
"If I can help just one veteran, or have just one call me later to tell me that I was able to help them get off opioids, then that would be tremendous," Hooten said.