Bird flu fears prompt show cancellations at Minnesota State Fair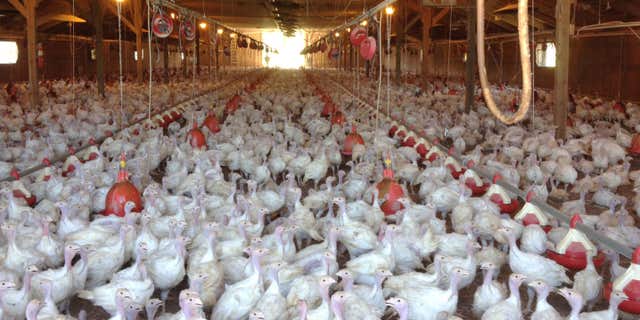 FALCON HEIGHTS, Minn. – All poultry shows have been canceled at the Minnesota State Fair and all county fairs across the state this year as authorities try to stop a deadly bird flu virus, officials said Friday, while other states have already made or are considering similar moves.
Dr. Beth Thompson, assistant director of the Minnesota Board of Animal Health, said the cancellations will help prevent the spread of the disease "by not allowing the birds to be comingling."
As of Friday, 88 Minnesota turkey and chicken farms had been affected by confirmed or presumed outbreaks of the H5N2 avian influenza virus, which has cost the state's producers around 5.8 million birds.
While new cases are slowing down, State Fair General Manager Jerry Hammer told reporters said it was "absolutely" the right decision for one of the largest state fairs in the country.
"Agriculture is what the fair is all about, and educating people about where their food comes from is our central mission. And we'll do that this year," Hammer said. "Sadly the birds won't be here but the poultry barns still will have exhibits on poultry, on its impact on Minnesota's economy. ... We'll use this space very well to show people about the challenges of food production."
Bird flu has affected more than 33 million birds in 15 states, hitting Minnesota and Iowa turkey and chicken flocks the hardest. North Dakota, Pennsylvania and West Virginia had already blocked poultry shows at their state and county fairs. The Ohio State Fair will prohibit poultry from affected states. But poultry shows are still on at state fairs in Wisconsin, South Dakota and Iowa — all of which have seen the bird flu.
Jim Tucker, president and CEO of the International Association of Fairs and Expositions, said it'll be a "learning and teaching opportunity" for the affected fairs, and he hopes it doesn't overshadow anybody's experience.
The Minnesota State Fair ranks first in average daily attendance and drew 1.8 million visitors last year, but is No. 2 behind the Texas State Fair for overall attendance.
Diseases have disrupted several kinds of animal shows on the Minnesota State Fairgrounds over the decades, Hammer said, including most recently an equine virus that affected the Minnesota Horse Expo in April 2014.
Participation in 4-H poultry projects has grown 38 percent over the past 12 years from 2,300 to 3,200 young people, according to Brad Rugg, director of fair and animal science projects for Minnesota 4-H. It's popular because raising a chicken is one of the cheapest projects out there, he said.
"Life isn't fair, and that'll be one of the difficult lessons," he said, noting 4-H will offer alternative activities for those kids.
While the decision will disappoint farm families, there will be strong support for it too, said Steve Olson, executive director of the Minnesota Turkey Growers Association and the Chicken and Egg Association of Minnesota.
"What's most important at this point is that we protect the health of the birds that those 4-H members, FFA members and poultry farmers are raising," he said.
Bird flu or not, Olson said his group's Turkey To Go booth will still serve its popular turkey sandwiches and turkey legs during the fair, which runs from Aug. 27 through Labor Day.