Bikram yoga guru faces arrest warrant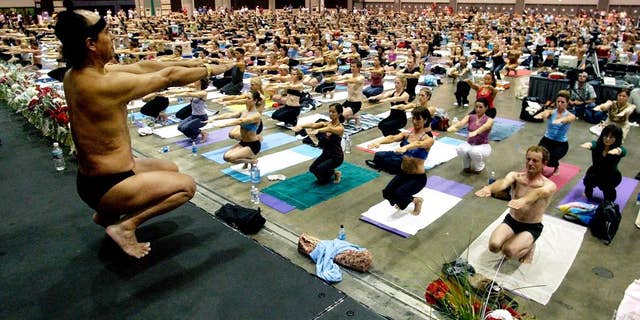 NEWYou can now listen to Fox News articles!
An arrest warrant has been issued for Bikram Choudhury, the hot-yoga guru who allegedly fled the U.S. rather than pay millions following a harassment lawsuit filed by his former lawyer, authorities say, People reported.
Los Angeles County Superior Court Judge Edward Moreton issued the warrant in May for Bikram Choudhury and set bail at $8 million.
Authorities believe Choudhury has hidden his financial assets and fled the country.
Choudhury, 73, is accused of not paying any of the $6.8 million judgment awarded to Minakshi Jafa-Bodden, who accused the hot-yoga creator of sexually harassing her. Jafa-Bodden also claimed Choudhury fired her after she refused to help him cover up a rape allegation.
Jafa-Bodden was general counsel for Bikram's Yoga College of India, People reported.
In the 2016 case, jurors unanimously found that Choudhury also acted with oppression, fraud and malice.
Carla Minnard, Jafa-Bodden's attorney, says she's tracked luxury vehicles and other property that Choudhury moved out of state and have court orders in Nevada and Florida preventing him from moving property from warehouses.
Jafa-Bodden worked as head of legal and international affairs at Choudhury's Los Angeles yoga school from spring 2011 until March 2013, when she said she was abruptly fired from her six-figure position.
Jafa-Bodden also said Choudhury sexually harassed and inappropriately touched her, and tried to get her to stay with him in a hotel suite.
She called it a "great day for women" when she was awarded a victory over Choudhury.
Choudhury has built an empire around Bikram yoga, a rigorous, 90-minute routine performed in a room that can reach more than 100 degrees. The technique is taught at more than 650 studios worldwide and has drawn devoted followers.
He faces sexual assault lawsuits filed by six other women, five of whom accuse Choudhury of raping them. One of those lawsuits is in the process of being settled while the rest are set for trial later this year.
His attorneys have said he never sexually assaulted any of the women suing him, pointing out that prosecutors had declined to bring charges in the cases.
The Associated Press contributed to this report.