Big Sur wildfire destroys 15 homes, displaces dozens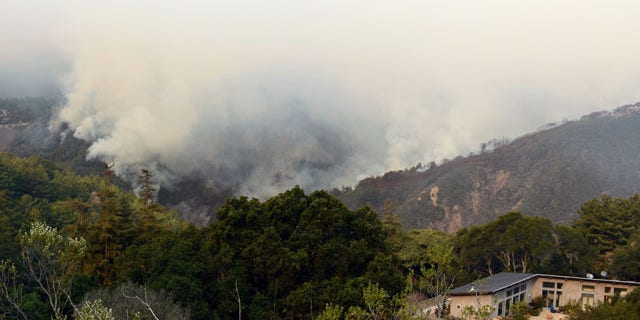 NEWYou can now listen to Fox News articles!
A wildfire burning near the Central California coastline had destroyed 15 homes and had grown to more than 500 acres in size late Monday.
The so-called Pfeiffer Fire was sparked at around midnight Monday in the Los Padres National Forest and had grown as large as 550 acres by sunrise. No injuries were reported, but the fire spread quickly across the landscape near the Big Sur region, which is in the midst of one of the driest years in its history. Wildfires are rare occurrences so late in the year.
Los Padres National Forest spokesman Andrew Madsen told the Associated Press that one of the homes destroyed by the fire belonged to Big Sur Fire Chief Martha Karstens.
"She left thinking that she was going to go protect other people's homes," Madsen said, "and it turns out that her own home has been consumed."
Officials were hopeful that they could contain the blaze this week.
"This is a completely wind-driven fire," Madsen said. "We're cautiously optimistic that we're going to pin this thing down within the next couple of days."
The Red Cross has set up an overnight shelter for people who have been displaced by the fire, Madsen said. Officials believe that about 100 people have been made to leave the area.
Big Sur is a popular tourist destination thanks to its high-end resorts and beautiful views of the Pacific Ocean.
The California Department of Forestry and Fire Protection said that 13 engines, 6 crews, 1 bulldozer, and approximately 625 firefighters had been deployed so far. Officials also brought in air tankers and helicopters.
Highway 1 is open but traffic is heavier due to the presence of emergency vehicles, Madsen said. Evacuations of the area remained in effect as of 10:30 p.m. Monday.
The cause of the fire was under investigation.
A lightning-sparked wildfire in 2008 forced the evacuation of Big Sur and blackened 250 square miles before it was contained. That blaze burned more than a dozen homes.
The Associated Press contributed to this report