Biden, FEMA chief to view flood devastation in Colorado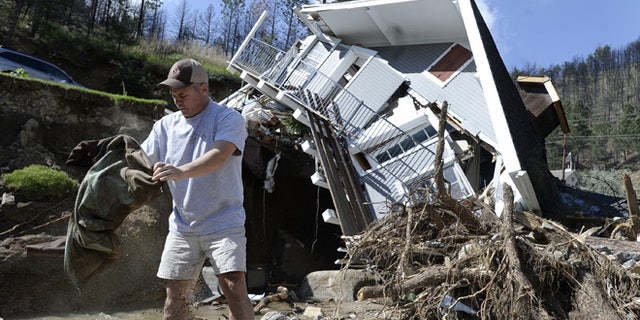 LONGMONT, Colo. – Vice President Joe Biden is scheduled to visit Colorado on Monday to view the damage and survey recovery efforts after flooding this month killed seven and wreaked havoc across 17 counties and 2,000 square miles.
Biden will be joined by Craig Fugate, administrator of the Federal Emergency Management Agency, the White House said. The two will deliver remarks in Greeley at 2 p.m.
On Sunday, state highway crews and National Guard troops worked furiously to repair highways to mountain towns that have been cut off by the flooding.
Colorado officials are aiming to meet a Dec. 1 target to complete temporary fixes to at least some of the heavily damaged roads.
Quick repairs are critical because winter weather will make highway work more difficult and force the closure of the high-elevation Trail Ridge Road through Rocky Mountain National Park, one of only two routes still open into Estes Park, a small town at the park's east entrance.
Also looming are the harvests from Colorado's $8.5 billion-a-year agriculture industry, which relies on trucks to get cattle and crops to markets.
Officials said it's too early to know how much time and money it will take to make permanent repairs, but they say it will cost more than $100 million.
Some 200 miles of state highways and 50 bridges were destroyed.
Gov. John Hickenlooper chose corporate executive Jerre Stead to oversee recovery efforts. Stead and Don Hunt, the state Transportation Department's executive director, are optimistic they can hit the December target if more bad weather doesn't interfere.
On Sunday, Stead and Hunt drove up flood-battered U.S. 36 northwest of Denver until they reached a point where floodwaters had obliterated the roadway. Then they got out and hiked.
With his hands about shoulder-width apart, Stead said, "You're on paths this narrow where the roads used to be."
Residents who chose not to evacuate aboard National Guard helicopters gave them a lift at one point, Hunt said. Those isolated residents can drive along unscathed sections of highway but can't reach either Estes Park on the north or Lyons on the south.
Hunt said the biggest difficulties will be getting construction materials into damaged areas and protecting workers and travelers from falling rocks loosened by heavy rains.
Colorado will award several contracts for emergency repairs to construction companies on Monday. State employees and National Guard soldiers are already on the job and making quick progress, Stead said.
The federal government will reimburse the state up to $100 million for road repairs, state Transportation Department spokeswoman Amy Ford said. But Colorado officials are pushing to raise that to $500 million, which Ford said was the cap for mid-Atlantic states rebuilding after Superstorm Sandy in 2012.