Bias alert: Twitter bans Breitbart bad boy, but not ISIS-linked London loudmouth
The Twitterverse has more to fear from a gay conservative than a fire-breathing ISIS recruiter if the social media giant's treatment of a pair of prolific and provocative posters is to be squared.
Twitter banned Breitbart tech editor and openly gay conservative Milo Yiannopoulos for life last month after his followers tweeted objectionable comments targeting African-American "Ghostbusters" star Leslie Jones, but a recent case in London's Old Bailey shows Twitter took a hands-off approach to the poisonous posts of Anjem Choudary.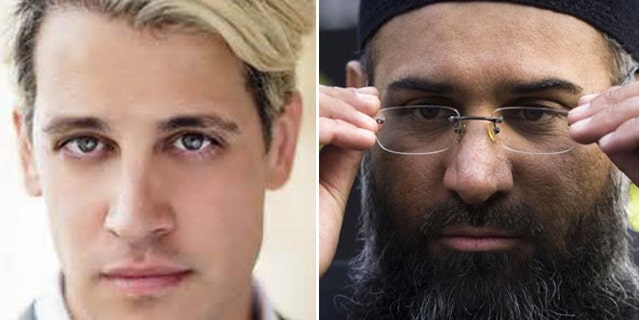 Jurors in the United Kingdom were told this week that British authorities repeatedly sought to get Choudary's Twitter posts and YouTube videos taken down after his pledge of allegiance to ISIS surfaced online. Choudary, who in interviews with Fox News and other media has for years made no secret of his embrace of Shariah law and Islamic radicalism, was convicted Tuesday of "inviting support for a proscribed organization," namely ISIS. He faces up to 10 years in prison when he is sentenced next month.
During the trial, prosecutors complained that despite Choudary's incendiary Tweets and YouTube videos, they had no power to force social media companies to remove the material. On Thursday afternoon, Choudary's Twitter page, which had 32,000 followers, was down.
It's a sharp contrast to the treatment Twitter last month afforded Yiannopoulos, who was banned from the 140-character forum after his "Ghostbusters" tweets, but says the ban is a reaction to years of conservative posts.
"An Islamic hate preacher convicted of inciting terrorism: fine," Yiannopoulos told FoxNews.com. "A gay man expressing concern about Muslim immigration: not fine. Welcome to the new, Shariah-compliant Twitter."
In conjunction with a scathing movie review last month, Yiannopoulos referred to Jones as a "black dude" and pegged her "barely literate." His followers then directed a storm of racist tweets at Jones, prompting Twitter founder Jack Dorsey to personally intervene.
Following the Yiannopoulos incident, a Twitter spokesman told FoxNews.com it takes its responsibility of moderating speech seriously.
"People should be able to express diverse opinions and beliefs on Twitter. But no one deserves to be subjected to targeted abuse online," a Twitter spokesman told FoxNews.com in an email. "We know many people believe we have not done enough to curb this type of behavior on Twitter."
But in the British court, a researcher from the National Counter Terrorism Police Operations Center catalogued a series of failed attempts to get Twitter to rein in Choudary, saying, "the police do not have the capability to remove any material from any platform."
Choudary currently has more than 32,000 followers on Twitter and his account can still be viewed online.
Testimony also showed that YouTube refused a June 23 request to take down a Choudary video titled, "Duties of the Kilafah by Anjem Choudary" which was refused. Another video, titled, "The Caliphate will expand into Europe and U.S.," was deemed "journalistic" by the site, officials said.