'Beast finally defeated': A giant fatberg is no more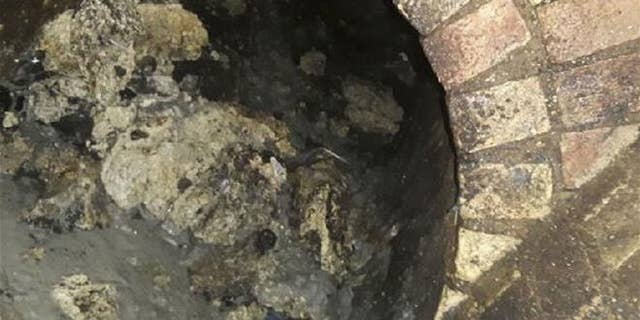 It was longer than two football fields, weighed as much as nearly a dozen double-decker buses, and took nine weeks to annihilate—but the London fatberg is officially no more.
"Our work is finished, and the beast finally defeated after a mammoth effort from the team," says Alex Saunders of the Thames Water utility, per Sky News.
The congealed blob made of fat, oil, wet wipes, feminine hygiene products, and even condoms had taken over a sewer in the eastern part of the city, wreaking havoc on the sewer itself as it ballooned.
It took what Saunders calls the "gut-wrenching work" of eight people with powerful jet hoses to blast the "rock-hard" fatberg out of existence (the remnants were vacuumed up and transported away).
"Nailing this fatberg was like battling a giant Harry Potter movie creature beneath the streets of London," the head of a partner wastewater utility tells Get West London.
Thames Water is running a "Bin it, don't block it" campaign to get people to quit flushing anything and everything down the toilet, the Evening Standard reports.
The utility estimates it spends $1.3 million a month unclogging blockages throughout its sewer network, which runs close to 70,000 miles. The fatberg is gone but won't be forgotten: The remains of the gross glob will be turned into enough biodiesel to fuel one Routemaster double-decker bus for a year.
And the Museum of London, which had previously expressed interest in acquiring part of the fatberg, put in a bid for it last month, with the museum's director noting it could become "one of the most extraordinary objects" in any London museum.
(Here's how Baltimore dealt with its fatberg.)
This article originally appeared on Newser: 'Beast Finally Defeated:' London's Fatberg Is No More