Bay Area trains keep running as labor talks drag on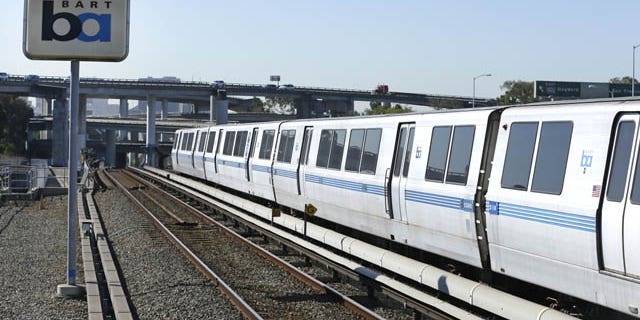 NEWYou can now listen to Fox News articles!
OAKLAND, Calif. – San Francisco Bay area commuters will see transit trains running as usual Thursday morning after the two sides in long-running labor contract talks agreed to keep meeting, forestalling a major strike yet again.
In a message to hundreds of thousands of anxious commuters, a federal mediator said that the transit system will continue to run Thursday as unions and management agree to keep talking.
"Out of respect to the public and BART ridership I have also been authorized to announce that trains will be running all day tomorrow," mediator George Cohen said in an email press statement issued by BART late Wednesday night.
Commuters are getting used to such announcements -- they've enduring seven strike deadlines, sometimes staying up past midnight waiting to hear if the trains will run in the morning..
The contentious labor talks between the San Francisco Bay Area Rapid Transit agency and its two largest unions have dragged on for six months -- a period that has seen a chaotic dayslong strike, a cooling-off period and frazzled commuters wondering if they'll wake up to find the trains aren't running.
BART spokeswoman Alicia Trost said the agency has been flooded with calls and emails this week from commuters frustrated that they haven't been given earlier notices.
Neither side would say where negotiations stand.
But at least one person seems comfortable betting that a strike won't happen.
A spokeswoman for San Francisco Mayor Ed Lee announced Wednesday afternoon that he had left on a trip to Asia. After delaying his flight for two days to ready the city for a possible strike, Lee concluded that a walkout seemed unlikely and went ahead with the planned trip.
Cohen said earlier that progress has been made but he has imposed a gag order on the parties.
The key issues have been salaries and worker contributions to their health and pension plans.
Talks began in April, three months before the June 30 contract expirations, but both sides were far apart. The unions initially asked for 23.2 percent in raises over three years. BART countered with a four-year contract with 1 percent raises contingent on the agency meeting economic goals.
The unions contended that members made $100 million in concessions when they agreed to a deal in 2009 as BART faced a $310 million deficit. And they said they wanted their members to get their share of a $125 million operating surplus produced through increased ridership.
But the transit agency countered that it needed to control costs to help pay for new rail cars and other improvements.
On Sunday, BART General Manager Grace Crunican presented a "last, best and final offer" that includes an annual 3 percent raise over four years and requires workers to contribute 4 percent toward their pension and 9.5 percent toward medical benefits.
The value of BART's proposal is $57 million, BART spokeswoman Alicia Trost said, adding that the agency is looking at ways to incorporate the unions' counterproposals into that cost.
SEIU Local 1021 executive director Pete Castelli said Monday the parties were between $6 million to $10 million apart.
Workers represented by the two unions, including more than 2,300 mechanics, custodians, station agents, train operators and clerical staff, now average about $71,000 in base salary and $11,000 in overtime annually, the transit agency said. BART workers currently pay $92 a month for health care and contribute nothing toward their pensions.
Meanwhile, Gov. Jerry Brown has stepped in to at least delay a strike by workers for regional bus system Alameda-Contra Costa Transit. Such a strike would leave commuters stranded without a mass transit alternative if a BART strike is underway at the same time.
Brown appointed a three-member panel to investigate a strike notice by union workers. The move effectively prevents a strike, which had been threatened for Thursday, for a week. A 60-day cooling-off period in the contract dispute could then be imposed.