Baseball legend Yogi Berra to join game's elites as recipients of Presidential Medal of Freedom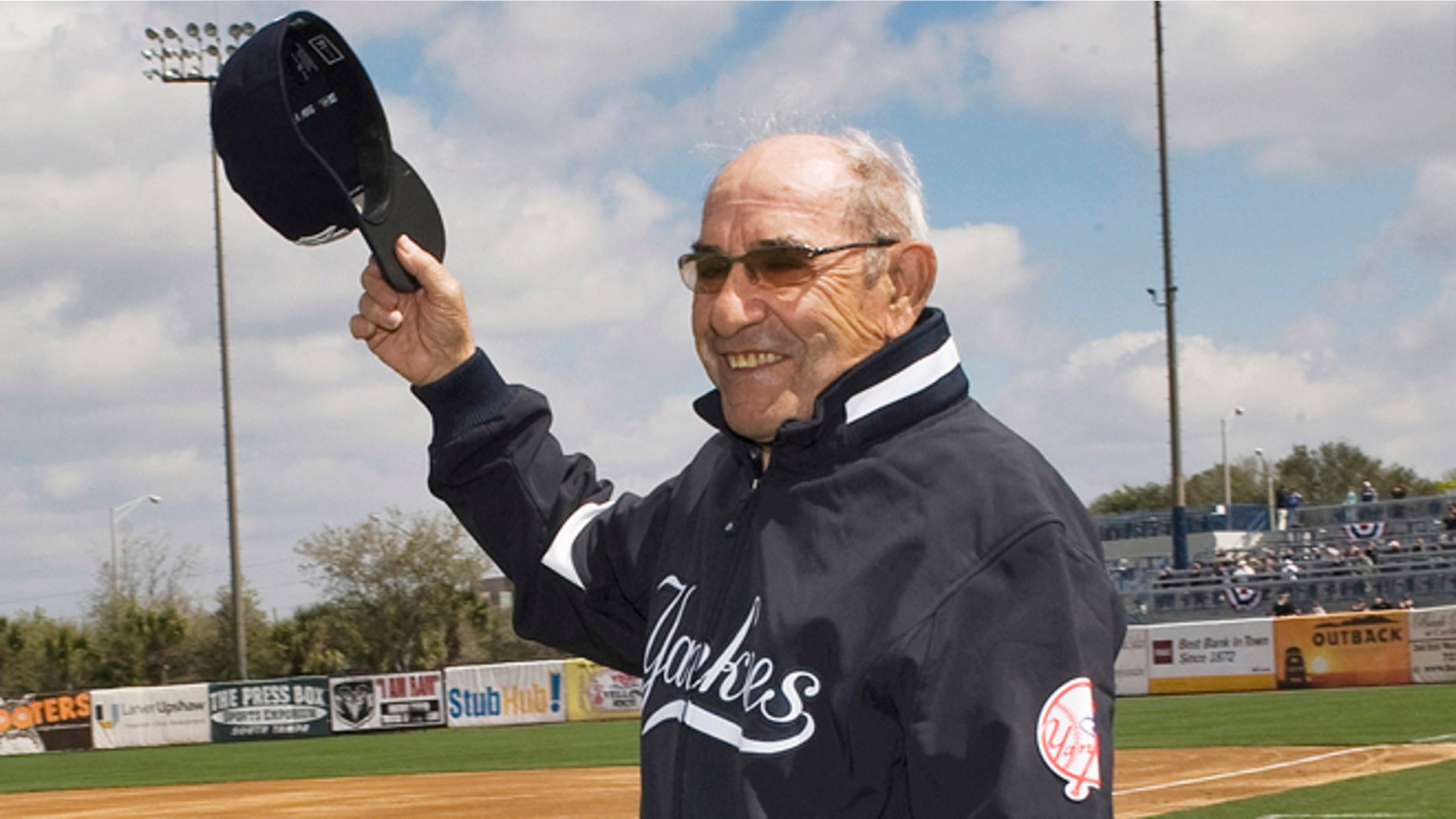 New York Yankees icon Yogi Berra was among the greatest to have ever played the game – and now the baseball legend will join the ranks of other Hall of Famers to have received the nation's highest civilian award – the Presidential Medal of Freedom.
Berra, who died at age 91 on Sept. 22, will be honored posthumously by President Obama at the White House on Nov. 24. He will receive the award along with slugger Willie Mays, filmmaker Steven Spielberg, singer and actress Barbra Streisand and other notable politicians and civil rights advocates.
Berra is the third baseball player to be honored posthumously, joining Jackie Robinson in 1984 and Roberto Clemente in 2003.
"It's been a roller-coaster ride of emotions the last 24 hours for me," granddaughter Lindsay Berra, who helped organize a White House petition to have Yogi receive the award, told FoxNews.com Tuesday. "I'm simultaneously very sad that grandpa isn't here to receive the medal himself, but I'm also thrilled that he will receive the medal… and I'm proud that we will be able to display the medal at his museum."
Berra's storied baseball career spanned more than 40 years as a catcher, manager and coach. He was an 18-time All-Star and record 13-time World Series champion, and was voted into the Baseball Hall of Fame in 1972.
Berra, when he was 19, participated in the World War II D-Day invasion with Allied forces as a Navy gunner and later earned a Purple Heart.
Berra, who was known for his "Yogi-isms," also started a museum on the campus of New Jersey's Montclair State University in his longtime hometown of Montclair, which serves more than 20,000 students yearly with "character education programs" that teach the values that Berra exemplified throughout his career.
Lindsay Berra told FoxNews.com that the medal will "serve as an inspiration to kids who come through the museum."
Lindsay will attend the ceremony next week with her father and two uncles, and she described her grandfather as genuine whether he was in front of or away from the professional spotlight.
"Whether you were to meet him or he was with the president or home with me and my father -- he is exactly the same person no matter who he is with," she told FoxNews.com. "He was the same good person all the time."
President Obama said in a statement Monday that this year's recipients of the medal "have enriched our lives and helped define our shared experience as Americans."
Yankees' principal owner Hal Steinbrenner also congratulated the Berra family, saying that Yogi receiving the medal is a "fitting tribute to a man who not only represented the sport of baseball with unequaled dignity and humor, but exemplified the best virtues of our country through his military service and compassion for others.
"His life was truly the embodiment of the American Dream."