BART officer died of gunshot wound to chest, autopsy says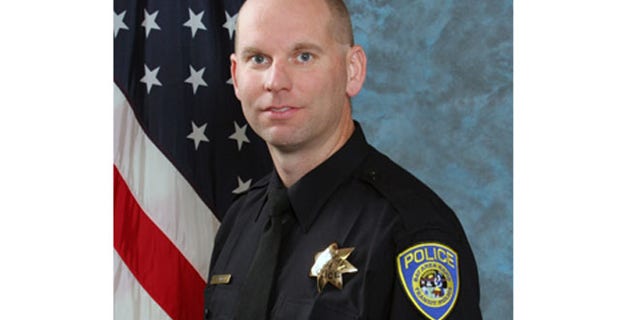 OAKLAND, Calif. – The San Francisco Bay Area transit officer who was shot and killed by a fellow officer while they searched an apartment died of a single gunshot wound to the chest, according to autopsy results released Thursday.
Bay Area Rapid Transit police Sgt. Tom Smith was wearing a bulletproof vest when he was shot on Tuesday, but the bullet struck an area that was not covered, Alameda County sheriff's spokesman J.D. Nelson said.
"Unfortunately, bulletproof vests do not provide 100 percent support," he said.
Authorities were still trying to determine whether the other officer's weapon discharged accidentally, or if the officer mistook Smith for someone else, Nelson said. Either way, it was an accident, he added.
The officer who shot Smith has not been named.
Smith, 42, was shot while authorities searched a one-bedroom apartment in Dublin for a smartphone, laptop bag and related items stolen during an armed holdup at a train station in Oakland.
Smith's older brother, Patrick, said his heart goes out to the family of the fellow officer who accidentally shot and killed his colleague.
"We're going to mourn the loss of our brother. We'll never forget him," Patrick Smith told KPIX-TV about the death of his brother.
"But there's someone else in another family that's affected by this, too, and I feel sorry for them," he said Wednesday.
Tom Smith was the first officer killed in the line of duty in the transit agency's 42-year history.
Patrick Smith is a field training officer with the Newark, Calif., Police Department. Another brother, Ed Smith, is a deputy with the Alameda County Sheriff's Department.
Smith's wife, Kellie Smith, also a BART police officer, told the station that she "cherished every moment" she had with her husband, a 23-year BART police veteran who oversaw the department's detective unit.
The couple has a 6-year-old daughter.
Funeral services for Smith have been scheduled for Jan. 29 at a church in Castro Valley, BART Police Chief Kenton Rainey said. The event will be open to the public.
Smith was shot while searching the apartment of John Henry Lee, 20, a suspect in several robberies on BART property.
BART police said in a statement that the San Leandro Police Department had arrested Lee on Jan. 16 after an automobile burglary and subsequent chase that ended when the suspect lost control of his vehicle and hit a tree.
He has pleaded not guilty to second-degree robbery with use of a handgun.
Rainey has said seven BART officers and a sheriff's deputy were at the scene when the shooting occurred. Five of the BART officers were detectives in plainclothes, including Smith, and the officers knew a suspect already was in custody, he said, noting the officers were following agency policies and training.
Rainey has declined to disclose any further details about how Smith was shot, deferring those questions to the Alameda County Sheriff's Office, which is investigating the shooting.
Wearing bulletproof vests, the officers began the search by knocking twice on the door of the apartment, Nelson said. The knocks went unanswered, but the door was unlocked, so four BART officers-- including Smith-- stepped inside with their guns drawn, Nelson added.
Nelson said an officer fired at least one shot.
Rainey has not said whether the shooting was captured on wearable lapel cameras issued to all BART officers up to the rank of sergeant.
Uniformed officers are required to wear the cameras, but the devices are optional for plainclothes detectives, the chief said.