Ban Recommended on Trucker Cell Use and Texting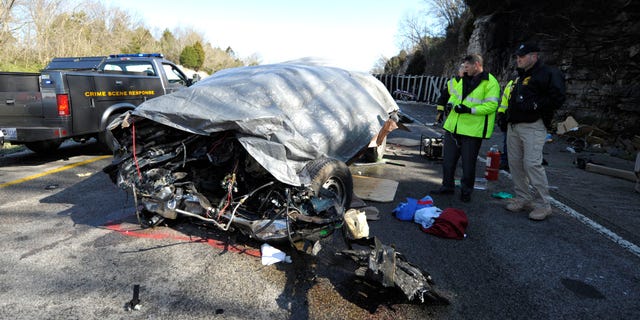 LOUISVILLE, Ky. -- Lynn Murphy doesn't like using his cellphone while hauling a load in his truck, but sometimes a call for directions or instructions is a necessary evil.
Murphy, a 66-year-old driver from St. Louis, likes having the option, though, and isn't happy about a proposal by the National Transportation Safety Board to ban cellphone calls and text messaging by commercial truck and bus drivers.
"They're attacking the wrong people," said Murphy, as he took a break at a Shepherdsville truck stop Tuesday.
The NTSB's proposal, issued Tuesday, goes farther than any prior attempt made by the agency to regulate cellphone use by commercial drivers. It came in the wake of a hearing in Washington after ruling that a truck driver using his cellphone caused a crash that killed 11 people on a Kentucky interstate in 2010. Kenneth Laymon, 45, of Jasper had just made a call that lasted one second at the time of the March 26, 2010, accident on Interstate 65 near Munfordville, Ky., investigators said.
The recommendation builds on previous proposals and a push by federal authorities stop commercial drivers from using hand-held cellphones and texting while operating large trucks and buses. The NTSB has previously recommended prohibiting bus drivers from talking on the phone and texting while driving. The U.S. Department of Transportation also has a rule in place barring the use of hand-held phones by commercial truck drivers and similar regulations are in place for pilots, train engineers and boat operators.
"This is the most comprehensive recommendation we've made," NTSB chairman Deborah Hersman told The Associated Press.
While support for restrictions on hand-held cellphone use and texting by truck drivers is near universal in the industry, figuring out who should regulate the use of the devices and what kinds of phones should be banned isn't nearly so unanimous.
The proposal would require action by lawmakers in 50 states. That's something that seems unlikely right now, given what is known about cellphones and drivers, said Jonathan Adkins, spokesman for the Governors Highway Safety Association in Washington. The group backs employer-based policies tackling cellphone use by truckers.
"It's going to be pretty difficult politically to get that kind of law through a state," Adkins said.
"We're not there yet."
The American Trucking Association, an industry lobbying group, supports a legal ban on hand-held phones and texting, but not hands-free devices, said Boyd Stephenson, safety and security manager for the Arlington, Va.-based organization. Stephenson said there's no science backing up the idea that hands-free devices are a distraction like hand-held devices are.
"The risks of texting while driving are beyond belief," Stephenson said.
The NTSB doesn't have the power to ban cell phone use and texting so it sent its recommendation the Federal Motor Carrier Safety Administration and all 50 states for action. Kentucky is among 34 the states that have banned texting for all drivers but doesn't outlaw cell phone use and driving. The federal Department of Transportation has a regulation in place barring commercial drivers from texting and has been pushing to bar hand-held cellphone use, spokeswoman Olivia Alair said.
The proposed ban would affect commercial truck drivers and bus drivers and apply only while they are operating the commercial vehicle. The federal Bureau of Labor Statistics estimated there were about 2.8 million commercial truck drivers in 2008, the last year statistics were available.
The NTSB voted to accept conclusions from staff investigators that the accident was caused because the truck driver was distracted by his cell phone.
It also found that driver fatigue and the failure of cable barriers along the median were contributing factors to the fatalities.
NTSB Chairman Deborah Hersman said similar recommendations about cellphones have already been made in aviation and for ship operators.
"It may not be something that's widely embraced. This is not going to be popular. But, we're not here to be popular. We're here to do what needs to be done," Hersman said.
"We believe the ban on cellular telephones, hand-held and hands-free, are appropriate in this case," said NTSB Director of Highway Safety Don Karol.
At least one trucking company got out ahead of the NTSB recommendations. Saia, Inc., a Johns Creek, Ga.-based company barred drivers from using cellphones, hands-free devices and even MP3 players while driving. Company spokeswoman Jeannie S. Jump said since May 2010, drivers may only use the phones when parked.
"Not only do we believe we owe that to ourselves and to our customers, but also the driving public," Jump said.
Murphy, the truck driver, agrees, saying it is safer to stay off the phone while driving, but it is up to employers and drivers to take those precautions.
"When you're out there on that road, your mind needs to be focused," Murphy said.
The NTSB made similar moves after ruling that distraction caused by cell phones caused fatal wrecks in other types of transportation, including a barge colliding with a Duck Boat in Philadelphia in 2010 and a train accident in Chatsworth, Calif., in 2008.
In the Kentucky crash, investigator David Rayburn told the NTSB the driver panicked and hit the brakes but didn't try to steer his tractor-trailer out of median. The truck drove into the oncoming lanes and crashed head on into a van carrying a Mennonite family and friends to a wedding in Iowa.
Laymon and 10 people in the van died in the fiery crash. Two young children in safety seats were the only survivors.
The victims were 22-year-old Joel Gingerich, 22, and his 20-year-old fiance, Rachel Esh, who were riding in the van. Also killed were John Esh, 64, owner of a vinyl-building business in Marrowbone; his 62-year-old wife, Sadie; their daughters, Rose, 40, and Anna, 33; their son and daughter-in-law, Leroy Esh, 41, and Naomi Esh, 33, and their adopted infant son; and family friend Ashlie Michelle Kramer, 22.
Laymon's wife, Misty Laymon, could not immediately be reached for comment Tuesday. In an interview before the hearing, Misty Laymon said her husband was very careful about using his cellphone while driving, even buying a hands-free device to ensure safety.
"I don't want him perceived to be another incompetent driver who killed people," Misty Laymon said.