Baltimore Rowhouse Fire Leaves Six Dead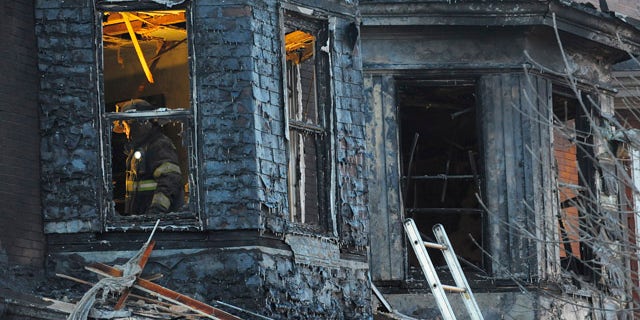 NEWYou can now listen to Fox News articles!
BALTIMORE – Flames engulfed an east Baltimore rowhouse early Tuesday, killing three children and three adults, and the blaze spread to adjacent homes, forcing families to flee in the cold.
Firefighters were called to the scene around 4:45 a.m. and found a two-story brick home on fire, Baltimore fire department spokesman Kevin Cartwright said. Firefighters initially attacked the flames from the interior, but wind gusts intensified the blaze and forced them to retreat, Cartwright said. Wind gusts in the area at the time were between 30-40 mph, the National Weather Service reported.
Cartwright said once firefighters suppressed the fire, they searched the home and found the victims. He did not know their ages or identities, but neighbors said an elderly couple, their granddaughter and her three children lived in the home.
Hours after the fire, Karen Lane stood outside the home next to her mother. Her parents' home next door was one of those damaged, but Lane's mother and father escaped unharmed.
"Thank God they got out alive," Lane said.
Richard and Eleanor Satterfield lived in the home where the fire was reported along with their granddaughter, Tiara, and her three children, Lane said.
Neighbor Charles Giddins said the Satterfields were nice neighbors.
"She had just retired from working at the daycare program," Giddins said. "All she would do is sit on the porch in the morning and feed the birds, and watch her grandkids."
Shirley Braxton, who lives in a home damaged by the fire, said her daughter opened the front door and shouted that their neighbors' home was on fire, The Baltimore Sun reported.
"I said, 'Get my grandson. Y'all just get out of the house,"' Braxton said. "The only thing I was thinking about was just getting out."
Fire investigators and arson detectives were working to determine the cause of the fire. The victims were believed to have died of smoke inhalation, although the State Medical Examiner's Office will make the final determination, Cartwright said. He didn't know whether the home had working smoke alarms.
Tuesday's fire was one of the deadliest in Baltimore in recent years. In January, four people were killed in a fire, and in May 2007, a rowhouse fire killed eight in east Baltimore.