Authorities Try to Coax Oklahoma Man From Tower After 5 Days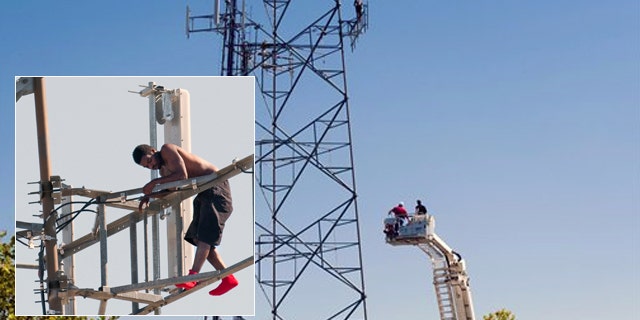 Oklahoma authorities say a man with a history of mental illness scaled a communications tower and has been perched at 100 feet above ground for five consecutive days.
The 25-year-old man identified as "William" was reportedly chased from the Clear Channel Communications' roof on Wednesday and revisited the building the next day, when he climbed the tower.
Authorities have made several attempts to coax him down, at times even offering the man cigarettes and water, but he declines. Early Monday, negotiators talked with the man for five hours, but the man has not budged.
To add to the danger of falling, William has not drank fluids since he had a Gatorade early Friday morning and takes naps on parts of the tower's framework.
Onlookers flooded parking lots along Memorial Drive to watch the spectacle. Police says they will take anyone into custody who taunts or tries to provoke the man on the tower, FOX-23 reported.
A Tulsa police negotiator told the station that William appears "afraid of people" and "paranoid."
He has been communicating with police by yelling, and reportedly told them that he has "to work some things out" and that he could be in the tower for a week.
William has exhibited bizarre behavior before, including walking from Tulsa to Dallas, the station reported.