Authorities looking for woman seen on Chicago train with alligator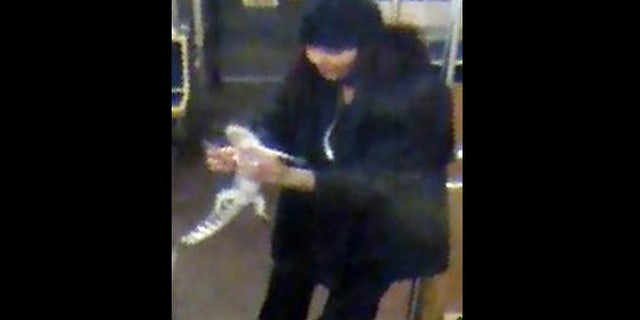 NEWYou can now listen to Fox News articles!
CHICAGO – After tracking down a small alligator scurrying around in a baggage claim area at Chicago's O'Hare International Airport, authorities are now hunting for its traveling companion.
The Chicago Transit Authority has released a series of images showing a woman who they believe rode to the airport on a CTA Blue Line train with the 2-foot-long gator in the early morning hours of Nov. 1.
Thanks to one of the most extensive surveillance systems in the United States, officials know this about the alligator's trip to O'Hare: It boarded a train at the Pulaski stop — with the woman — at 1:17 a.m. The security camera captured the woman petting her little friend on her knee as she talked on her cellphone.
An hour later, the woman, presumably with the alligator, disembarked the train at the airport. Then, at 2:44 a.m., she is again recorded by the security cameras near the O'Hare stop, but with no alligator.
An airport employee found the alligator later in the day under an escalator near baggage claim No. 3 (Insert alligator bag joke here). Police captured he reptile by trapping it beneath a trash can.
Not only did officials give the alligator a name — Allie — but it was handed over to people who could care for it, just in the nick of time.
"He's in pretty bad shape and was probably not being fed a proper diet," Jason Hood, president of the Chicago Herpetalogical Society, told The (Arlington Heights) Daily Herald at the time. The society took custody of the alligator.
As for the woman, she could be in trouble because while carrying an alligator bag may be considered stylish, carrying a live alligator is a crime. Hood said the Illinois Dangerous Animals Act makes it illegal to own an alligator in the state.
Further to that, the CTA said she could be in yet more trouble.
"Those responsible for this act can face a misdemeanor charge of cruel treatment of an animal or face a fine of $300 to $1,000 for cruelty to animals for abandoning the animal in a public place," the authority said in a news release.
CTA did not explain how it knows — for certain — that the alligator spotted on the train is the same animal captured at the airport.