Authorities Investigate Gunshots Fired Into South Side of Pentagon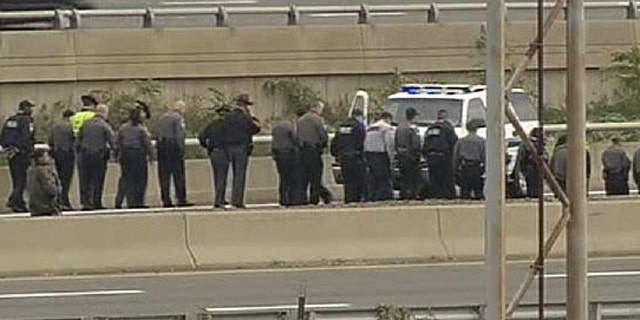 NEWYou can now listen to Fox News articles!
Gunshots were fired at the Pentagon Tuesday in what security officials described as "a random event."
Sources tell Fox News that the shots were believed to be fired from a high-powered rifle.
Police who protect the massive Defense Department headquarters temporarily locked down some road and pedestrian entrances to the building after a civilian reported he may have heard shots at about 5 a.m. on the south side of the facility.
Steven Calvery, director of the Pentagon Force Protection Agency, told reporters that five to seven shots were fired at the third and fourth floor windows of the Pentagon's south side at 4:55 a.m. Tuesday.
The bullets did not penetrate the windows, he said, and two bullets were found embedded in the shattered glass.
The windows of the offices hit were under renovation and were not occupied. No one was injured in the shooting, authorities said.
Sources close to the investigation said the shots could have been fired from highway 395. Authorities were combing a grassy area on the south side of the building and checking surveillance footage from neighboring locations for any clues in the shooting.
No suspects have been identified and a motive is yet to be determined in the shooting.
Calvery told reporters Tuesday that authorities are investigating whether there was any connection between Tuesday's incident and Monday's discovery of bullet holes in windows at the National Museum of the Marine Corps in Triangle, Va., some 30 miles south of the Pentagon.
A cleaning crew at the museum associated with the Quantico Marine Base called police when they noticed the bullet holes in windows high up in a part of the building that faces Interstate 95.
Police believe the shots were fired at the museum late Saturday or early Sunday, when no one was inside. Investigators used a crane to inspect the damage Monday. Because of the height of the holes, police suspect the bullets were likely fired from a rifle, but they are still working to determine what caliber of bullet was used.
Several glass panels were hit, causing about $20,000 in damage. None of the museum's artifacts -- including a harrier jet hanging near the damaged windows -- were hit.
Lapan said this was the first incident of its kind since early March, when a gunman opened fire at a security checkpoint into the Pentagon in a point-blank attack that wounded two police officers.
The shooter, identified as John Patrick Bedell, 36, of Hollister, Calif., was shot by police and died hours after being admitted to a hospital in critical condition. Authorities had no motive for the shooting, but there had been signs that Bedell may have harbored resentment for the military and had doubts about the facts behind the Sept. 11 terrorist attacks.
Fox News' Justin Fishel and the Associated Press contributed to this report