Authorities in D.C. Seize $7 Million in Guns, Drugs After Yearlong Undercover Sting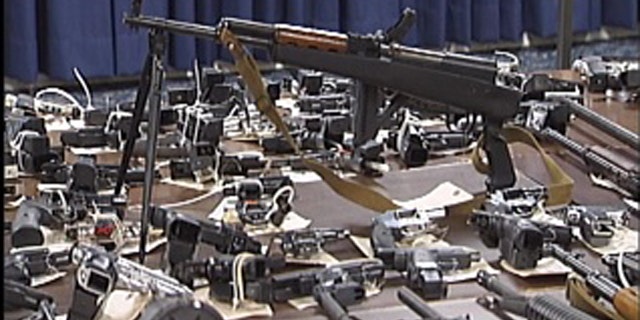 WASHINGTON – Authorities in Washington say a yearlong undercover gun and drug trafficking operation has led to 70 arrests and the seizure of $7.1 million worth of drugs and firearms.
D.C. police and agents with the federal bureau of Alcohol, Tobacco, Firearms and Explosives conducted the operation along with other federal authorities.
Authorities say officers posed as gangsters, businessmen and bodyguards and a fake recording studio was set up in November 2010 where undercover agents purchased guns and drugs.
"This was a significant result for the District," D.C. Police Chief Cathy Lanier said at a press conference. "Had those drugs and guns made it to our streets, the consequences would be devastating."
The operation netted 161 firearms, including 29 assault weapons, along with methamphetamine, cocaine, PCP, marijuana, heroin and ecstasy. Authorities say one of the suspects, Christopher Washington, offered to sell grenades and rocket launchers to the agents. Another, James Deale, allegedly sold AR-15 assault rifles and rare made-to-fit handgun silencers to the agents, according to the Washington Post.
"They had real connections to real gun traffickers," D.C. Police Sgt. Dale Sutherland told the Washington Post. "It is unusual to get that many guys that have a 'connect' where they can get guns steady."
Targets were lured to the phony studio by confidential informants, where their meetings and deals were recorded by hidden audio and video equipment, the Washington Post reports.
Police Chief Cathy Lanier says the people arrested were "extremely dangerous." The team uncovered connections to a Mexican drug cartel and gun traders from outside the region.
The Associated Press contributed to this report.
Click here for more on this story from MyFoxDC.com.
Authorities in DC Seize $7 Million in Guns, Drugs: MyFoxDC.com