Austin on edge after explosion leaves 2 injured; cause of blast unclear
Another Austin explosion -- possibly triggered by a trip wire -- injured two people on bicycles Sunday night, leaving police frantically working to determine if the blast is linked to a trio of package bombings that have gripped the Texas capital in fear.
The latest blast occurred around 8:30 p.m. Sunday night in a suburban neighborhood known as Travis Country. Investigators didn't immediately confirm what caused it.
"If this explosion was the result of a bomb using trip wire technology, that is showing a different level of skill above that we were already concerned that this suspect or suspects may possess," Austin Police Chief Brian Manley told ABC's "Good Morning America" on Monday.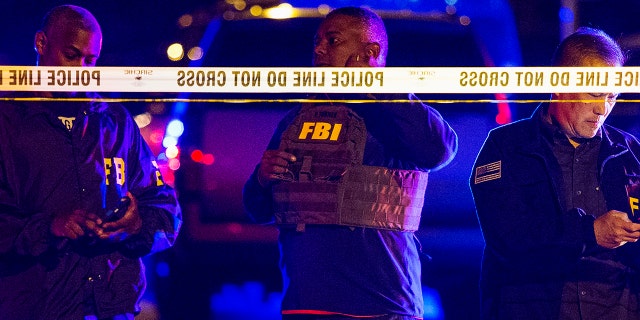 Manley said the explosion may have been detonated by a trip wire, adding the blast was "activated by someone either handling, kicking or coming into contact with a trip wire that activated the device" as they walked or rode their bikes through the area.
"That changes things, in that our safety message to this point has been involving the handling of packages and telling communities 'do not handle packages, do not pick up packages, do not disturb packages,'" Manley said at a hastily-arranged news conference.
Manley said police were "working under the belief" the explosion was related to the three others, but investigators still had yet to process the entire scene.
"We are working under the belief that they are connected."

Austin Police Chief Brian Manley spoke in a news conference regarding an explosion that left two people injured in Austin, TX. The blast comes after 3 package bombs detonated earlier this month. https://t.co/XcF3tYGt63 pic.twitter.com/MgeeRxHZjF

— Fox News (@FoxNews) March 19, 2018
Austin Police urged people within a half-a-mile radius to stay in their homes as the "scene needs to be processed and properly cleared of any hazards," and that police will provide an update at 10 a.m.
"We want to put out the message that we've been putting out and that is, not only do not touch any packages or anything that looks like a package, do not even go near it at this time," Manley said at an earlier news conference. Because "we have not had an opportunity to look at this blast site to really determine what has happened."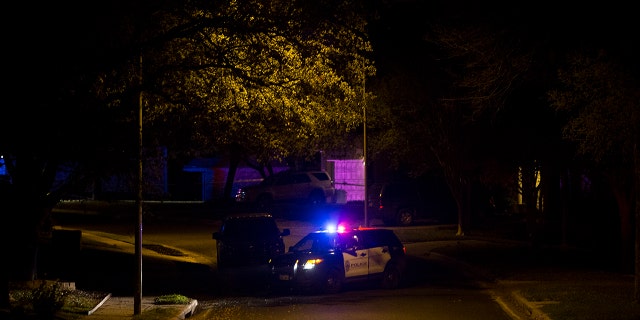 A witness speaking to FOX7 described hearing a "loud bang," adding that it was "not a car crash, not gunshots but something terrible."
AUSTIN PACKAGE BOMB ATTACKS TIMELINE
Two men in their 20s suffered non-life threatening injuries in the blast, including one who had nails in his leg, according to KVUE-TV. South Austin Medical Center officials said the men were in good condition.
Authorities also issued an emergency alert on cellular phones after the blast took place.
Austin Mayor Steve Adler said late Sunday he was confident authorities were going to find who is responsible for the string of "horrific" explosions, according to KVUE-TV.
Manley urged people within half a mile to stay in their homes. Authorities said they would keep the surrounding area blocked off for authorities to check the area, according to FOX7.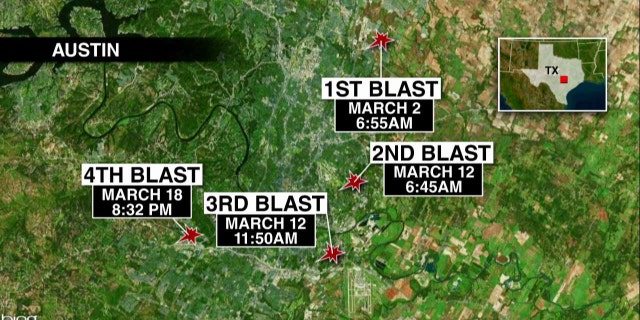 Thad Holt, 76, who lives near the site of the fourth explosion, told Fox News the neighborhood is "very quiet," with a lot of families.
"We were surprised because it all had been concentrated on that side of town, in lower income neighborhoods but this is a real, nice neighborhood, nice homes, everything from retired people to professional people," he said. "It's a pretty crime-free neighborhood."
Holt, who has lived in the neighborhood for almost 18 years, said he had taken a walk with his wife around 7:30 and walked right past the area at a quarter to 8.
"Nothing like this happens here," he said.
Sunday's explosion was the fourth to rock Austin less than three weeks. However, the three previous blasts occurred on the eastside of the city.
The first was a package bomb that exploded at a northeast Austin home on March 2, killing 39-year-old Anthony Stephen House. Two more package bombs then exploded farther south on March 12, killing 17-year-old Draylen Mason, wounding his mother and injuring a 75-year-old woman.
AUSTIN PACKAGE BOMBS PROBABLY 'PRETTY SIMPLE,' COMPONENTS COULD LEAD COPS TO SUSPECT, EXPERTS SAY
Police said all three of those were likely related and involved packages that had not been mailed or delivered by private carrier but left overnight on doorsteps.
Manley originally suggested they could have been hate crimes since all the victims were black or Hispanic, but now says that investigators aren't ruling out any possible motive. The two victims in Sunday's blast were two white males, Manley told ABC News on Monday.
Earlier Sunday, Austin police said the reward for information leading to an arrest in the deadly explosions has risen by $50,000 to a new total of $115,000. Manley said more than 500 officers, including federal agents, have conducted 236 interviews in following up 435 leads.
Fox News' Shira Bush, Michael Arroyo, Nicole Darrah and the Associated Press contributed to this report.