Atheist Messages Displace California Park Nativity Scenes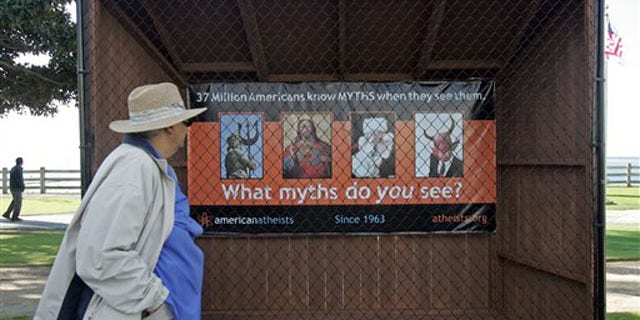 SANTA MONICA, Calif. – Atheist messages have displaced most of the Christmas nativity scenes that local churches had placed in a California park for nearly six decades, and the churches say it was a coordinated attack.
Local churches have traditionally claimed 14 of the 21 display spaces to illustrate the story of the birth of Jesus Christ.
But atheists got all but three of the spaces this year because of a new lottery system.
"Our belief is that these new applicants have been working together to displace and push out the nativity scenes from the park, rather than erecting a full display of their own," said Hunter Jameson, a spokesman for a coalition of the city's churches.
The Santa Monica Daily Press reported that churches had little or no competition for the spaces during the past 57 years. This year, 13 people bid for spaces, prompting City Hall to use a random lottery system to allot the spots.
Two individuals got 18 spaces. One person can request a maximum of nine.
Damon Vix is behind the effort.
Last year, he put up a sign quoting Thomas Jefferson: "Religions are all alike -- founded on fables and mythologies." There were also selections on U.S. Supreme Court decisions about the importance of separating church and state.
Vix now helps other atheists populate the park spaces, including American Atheists Inc. and the Freedom From Religion Foundation.
Secularists feel a need to be more vocal and express their civil rights, he said.
"For 60 years, it's almost exclusively been the point of view of Christians putting up nativity scenes for a whole city block," Vix said.
Jameson pushed the city to give "local preference" in awarding the spaces, since Dix doesn't live in Santa Monica.
City Attorney Marsha Moutrie wrote, however, that the Christmas displays cross the boundary into First Amendment free speech rights, which know no geographical boundaries.
"Everyone has equal rights to use the streets and parks for expressive activities, irrespective of residency," Moutrie wrote.