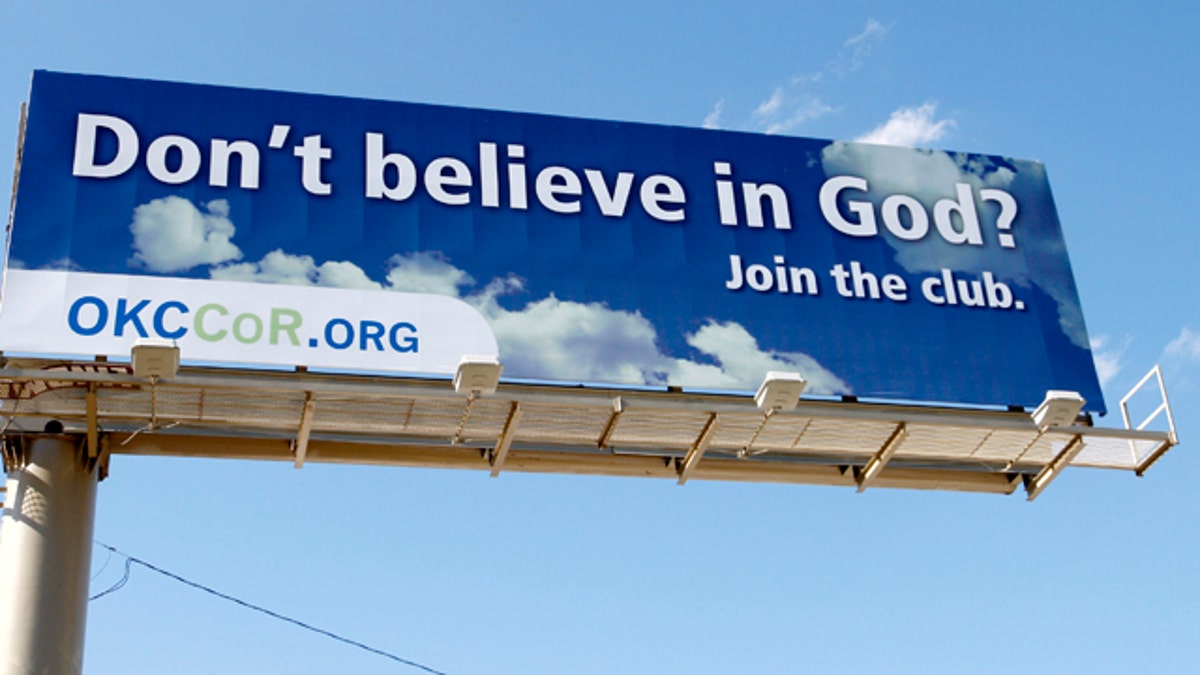 OKLAHOMA CITY -- Atheists in Oklahoma City have erected a billboard seeking fellow non-believers, and Satanists have scheduled a conference in a city-owned building, drawing criticism from ministers in a state where more than eight out of 10 people say they are Christians.
"It's not a question of 'Can you?' It's a question of 'Should you?"' said Dan Fisher, pastor of the Trinity Baptist Church in Yukon. "It's kind of like they're poking a finger in your eye."
Nick Singer, the coordinator of a local atheists' group called "Coalition of Reason," recently received $5,250 from its national counterpart to erect the billboard along Interstate 44 near the Oklahoma State Fair, which opens Wednesday. Its message reads, "Don't believe in God? Join the club."
Similar billboards were recently put up in Arizona, Arkansas, California, Florida, Iowa, Louisiana, Michigan, Texas and Washington.
"The billboard was designed to get a little bit of a response, but it's not meant to be directly insulting," Singer said. "It's just a sign to like-minded people that we are here."
Oklahoma wears its religion on its sleeves.
Around the holidays, owners of downtown skyscrapers leave on nighttime lights in the pattern of a cross, which across the flat landscape can be seen for miles. The Ten Commandments were on display at a courthouse lawn in northeast Oklahoma until a federal judge ordered it removed, and a move is afoot to erect a similar monument at the state Capitol.
Legislators pray in their chambers, led by a "minister of the day," usually Christian. The Oklahoma City Thunder is one of the few NBA teams to begin each contest after a non-denominational prayer delivered by a minister on the public address system.
One state lawmaker wants to change the state's motto from "Labor omnia vincit" -- Latin for "Labor conquers all" -- to "In God we trust."
Oklahoma also has various "God" billboards that purport to pose questions and observations from the Almighty, like: "You think it's hot here?" and "What part of 'Thou shalt not ...' didn't you understand?" and "Life is short. Eternity isn't."
That campaign was funded by an anonymous donor in 1998 and later expanded as part of a public service campaign of the Outdoor Advertising Association of America, an industry trade group.
No one has questioned the constitutional right of atheists to erect a billboard or Satanists to rent a public hall, but there are questions about how much of a crowd they'll draw.
"People here, the vast majority, still hold a regard for scripture and traditional biblical values," said Paul Blair, pastor of the Fairview Baptist Church in Edmond. "If liberalism, if the Devil himself, can make inroads in Oklahoma, that would be a great victory (for them) to be trumpeted across the land."
Oklahoma ranks eighth in the nation for percentage of residents who self-identify themselves as Christians (85 percent), according to an analysis of the 2008 U.S. Religious Landscape Survey conducted by the Pew Research Center's Forum on Religion and Public Life.
Mississippi ranked first, at 92 percent, according to the Association of Religion Data Archives, which analyzed the Pew Center's data.
Ryan Dragg, 35, of Norman said he wasn't offended by the billboard.
"I just blew it off," Dragg said. "That's what's great about this country. You've got an idea, you can express it."
Some religious leaders had other issues on their minds.
"It's not the people who don't believe in God that worry me," said Robin Meyers, senior minister at Mayflower Congregational Church in Oklahoma City and a professor of rhetoric at Oklahoma City University. "It's some of the people who do.
"Fundamentalism is the enemy worldwide, no matter what the strain."
The Satanists, calling themselves the Church of the IV Majesties, have reserved a room at the Oklahoma City Civic Center for a "blasphemy ritual," said James Hale, a founding member.
"I guess you could say we're poking a dog with a stick. That's the point of Satanism -- to question all things," Hale said.
Singer, from the atheists' group, said his group has no connection to the Satanists.
"As far as Satan goes, we don't believe in him either," he said.