At least one person killed, multiple injured in Spokane, Washington high school shooting, officials say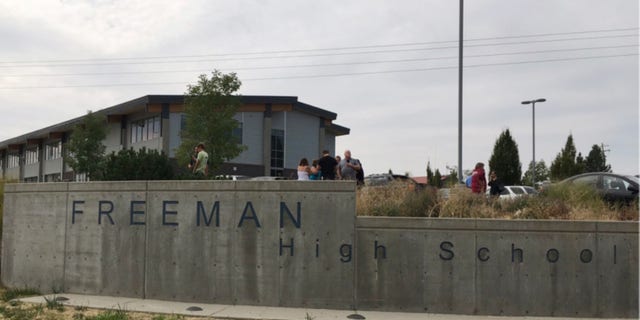 At least one person was killed and three injured following a shooting at a high school near Spokane, Washington, officials said on Wednesday.
One person died at Freeman High School in Rockford while the three injured victims were taken to a hospital, an official said. The shooter is in custody, according to Spokane County Sheriff Ozzie Knezovich.
The student who was killed, according to KREM, was shot after confronting the shooter. The suspected shooter apparently had two weapons and the first one jammed, at which point he was confronted by the student. He then proceeded to shoot three other students before being detained by a staff member.
The three pediatric patients injured in the incident are currently in satisfactory condition, Sacred Heart Hospital told Fox News.
"The shooter has been apprehended and has been taken into custody with law enforcement," an official said during a news conference following the incident. There were initial reports of multiple shooters but that wound up being false, the official said.
The suspect's identity and motive were not immediately known.
The three victims that survived are all stable and doing well, officials said, although one will need surgery later on Wednesday. No information on specific injuries was provided. None of the three victims were identified.
A parent of a freshman at the school said her son called her from a classroom after hearing the shots fired.
"He called me and said, `Mom there are gunshots.' He sounded so scared. I've never heard him like that," Cheryl Moser told The Spokesman-Review. "You never think about something happening like this at a small school."
Stephanie Lutje said she was relieved to hear her son was safe after his high school near Freeman was put on lockdown. She commended the school district for its communication with parents.
"It's been amazing, within probably 15-20 minutes of hearing about it, I'd already received a phone call, I'd already received a text message saying that their school is OK," she said. Multiple neighboring school districts – including Central Valley and Spoke Public Schools – initially imposed lockdowns as a precaution in reaction to the incident.
Freeman High School has more than 300 students, according to The Spokesman-Review.
Gov. Jay Inslee, D-Wash., said in a statement that "all Washingtonians are thinking of the victims and their families, and are grateful for the service of school staff and first responders working to keep our students safe."
"Heartbreaking headlines out of Spokane county," Sen. Patty Murray, D-Wash., said on Twitter. "My thoughts are w/ students, teachers, parents, 1st responders & the entire community.
The Associated Press contributed to this report.