At least 9 tornadoes confirmed in Ohio, Indiana storms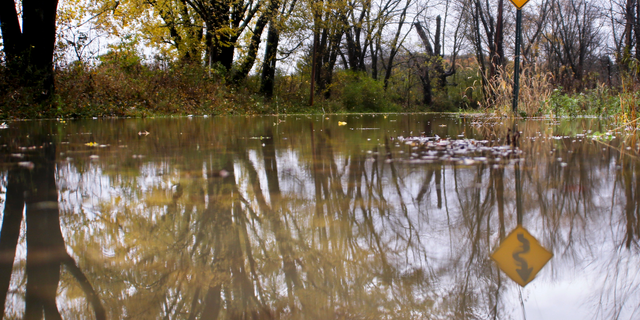 A powerful storm with at least nine confirmed tornadoes tore roofs off factories, ripped away storefronts and destroyed homes across Indiana, Ohio and into Pennsylvania.
Scuba divers found the bodies of two men inside a home's flooded basement where they were seeking shelter Sunday during a tornado warning in Erie, Pennsylvania, authorities said.
Six people were hurt, though none seriously, at a restaurant in the western Ohio city of Celina on Sunday when a tornado touched down. Gaping holes could be seen in the concrete walls and roof of a nearby factory that makes heavy equipment.
"I've seen a lot of hard hit areas with storms, even as far as having relatives down in the hurricanes," Celina Mayor Jeffrey Hazel told WHIO-TV. "I can say this is pretty tremendous damage in this area."
The National Weather Service said Monday that at least six tornadoes hit northern and western Ohio, including one that began in Indiana and hopped along nearly 40 miles before hitting Celina. Several large livestock barns were flattened and neighbors pitched in to save nearly 400 cows at one farm in Mercer County.
The other tornadoes in Ohio touched down in Ashland, Crawford, Sandusky and Erie counties.
In Indiana, survey teams confirmed at least three other tornadoes hit the cities of Salem, Muncie and Springville.
A falling tree landed on an SUV near Muncie, injuring a family of four, including a 44-year-old father who was in critical condition.
Close to 40,000 people near Cleveland and Akron were without power Monday morning and some were told it could take a few days before electricity was restored.
A handful of polling locations in northeastern Ohio were moved for Tuesday's election because of power outages.
In Pennsylvania, the storm dumped about 4 inches of rain around Erie.
A rush of stormwater collapsed a wall of the home where the two bodies were found, spilling about eight feet of water into the house in Erie, said John Groh, Millcreek Township supervisor. The names of the two men have not yet been released.
"We've never seen that kind of water in that period of time," Groh said. "I've lived here 60 years and I've never seen a storm like this."
In Indiana, the storm pushed part of the brick facade at the top of the Muncie Fieldhouse onto its roof, sending "thousands of gallons of water a minute" into the historic basketball gym, Mayor Dennis Tyler told The (Muncie) Star Press.
The storm also ripped apart a football stadium press box and tossed metal bleachers onto the field at a high school near Sandusky, Ohio. Winds ripped off the facade of a restaurant in Findlay and heavily damaged several mobile homes.
___
Associated Press writers Anthony Izaguirre in Philadelphia and Ken Kusmer in Indianapolis contributed to this report.