At least 4 dead, dozens hurt after bus carrying football players hits overpass
NEWYou can now listen to Fox News articles!
ROCKINGHAM, N.C. – State troopers say four people were killed and more than 40 were injured in a charter bus crash Saturday near Rockingham, N.C.
Between 40 and 50 people were hurt in the crash and all have been transported to hospitals, Hamlet Fire and Rescue Chief Calvin White told WBTV in Charlotte. The extent of their injuries was not immediately known.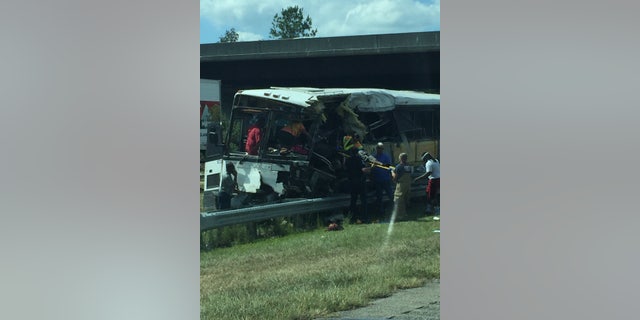 University of God's Chosen coach Demetrius Hollingsworth said that football players and coaches from Ramah Juco Academy were traveling from Rock Hill, South Carolina, to Raeford to face UGC when their charter bus struck an overpass about 3 p.m. on Interstate 74 in Richmond County, WRAL-TV reported.
"Prayers go out to Ramah Juco they suffered a horrific charter bus accident on the way to Fayetteville to face the University of God's Chosen. Everyone pray for Coach Bakari Rawlinson! Prayers out to you and your student athletes brother," Hollingsworth posted on his Facebook page Saturday.
"It appears the bus experienced a tire failure," Lt. Jeff Gordon of the State Highway Patrol told WRAL. "The front tire blew causing that bus to travel into the median. It then struck a guardrail."
It could take months before investigators reconstruct the accident and finalize their findings, Gordan said.
Images from the scene showed the side wall of the bus almost sheared off and some of the injured lying on the ground.
Rockingham is about 70 miles southeast of Charlotte.