At least 10 injured in 30-plus car pileup on Indiana interstate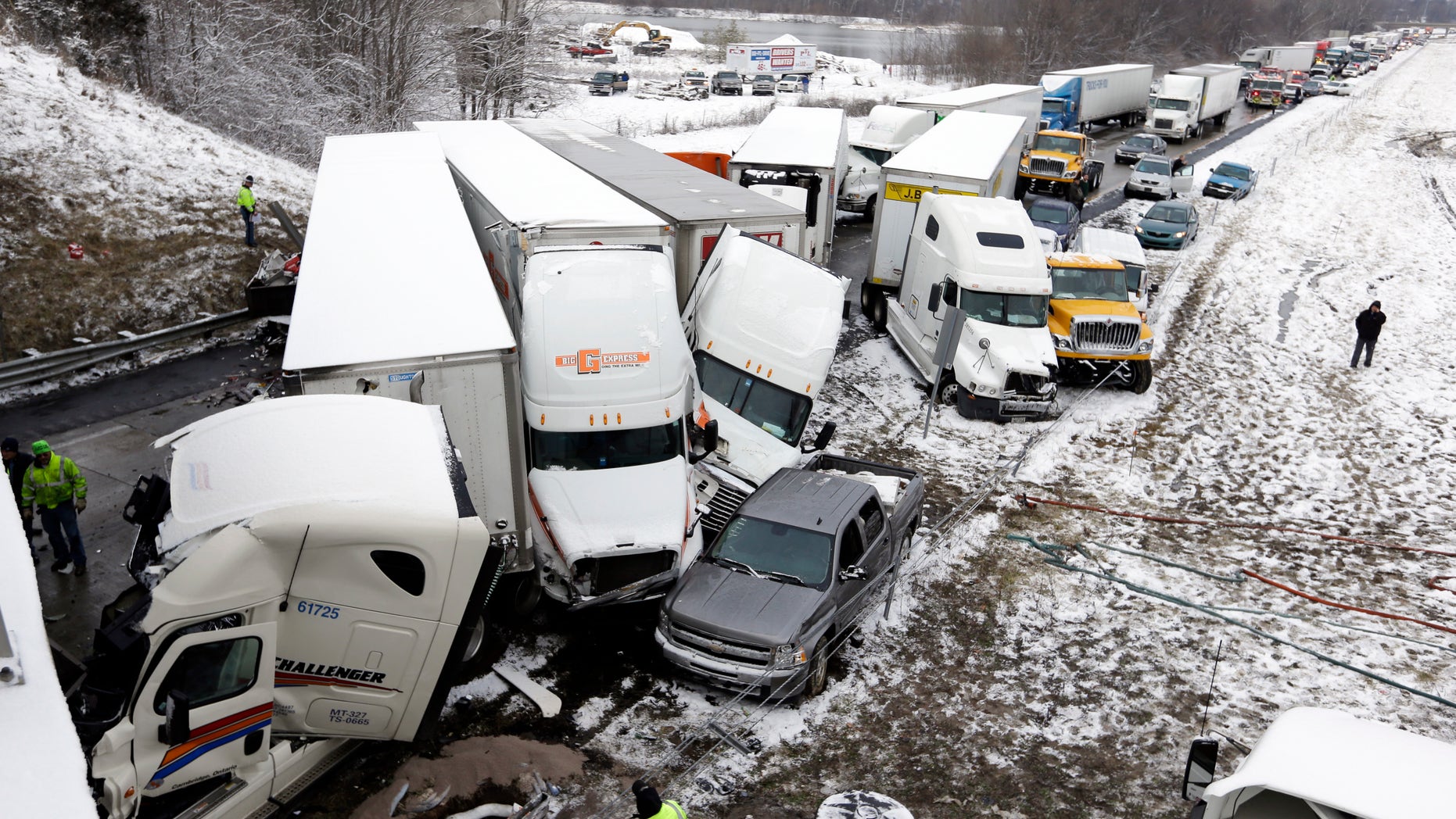 PLAINFIELD, Ind. – A more than 30-vehicle pileup on a snowy Indiana interstate left at least 10 people injured Thursday, including at least one critically, and shut down a heavily traveled highway for most of the evening, authorities said.
Most of the injuries in the afternoon pileup along Interstate 70 were minor, but one victim's condition was "very critical," Indiana State Police Sgt. Rich Myers said.
Indiana University Health spokesman Gene Ford said five of the injured had been treated and released by Thursday evening. He said four others were stable condition, while one was in critical condition.
Semitrailers sat smashed side-by-side against one another along the stretch about 20 miles west of Indianapolis, with cars and other smaller vehicles pushed to the sides of the roadway. About 20 big rigs and some 15 passenger vehicles were involved in the pileup, Indiana State Police Capt. Dave Bursten said.
Several motorists blinded by a snowsquall crashed into stalled traffic on the slick road, police said.
"We believe weather was a factor," Bursten said. Snow was falling at the time of the crash and whiteout conditions were possible, along with slick roads, according to the National Weather Service.
The main crash happened at the interstate's 65-mile marker, but there was a second crash involving at least two jackknifed semitrailer rigs nearby, Indiana Department of Transportation spokeswoman Debbie Calder said.
Bursten said the "epicenter" of the crash was directly below an overpass.
Hours after the pileup, mangled metal and ripped tires remained along the highway's shoulder even after most of the wreckage had been removed.
At one point, three elephants had to be off-loaded from a semitrailer that slid off the highway, but were reloaded when the truck was pulled back onto the road, Bursten said.
All lanes of the heavily traveled east-west freeway remain closed in both directions for more than five hours. Eastbound lanes reopened Thursday night, but westbound lanes remained closed indefinitely, state police said. Eastbound traffic at one point was backed up at least five miles.
Indiana Department of Homeland Security spokesman John Erickson said his agency and the Department of Environmental Management sent hazardous materials crews to the site.
"I think it's because of fuel spills," Erickson said.
IDEM spokeswoman Amy Hartsock said auto fluids spilled in the massive crash but no hazardous cargo was involved.
Traffic on nearby U.S. 40 grew heavy with diverted vehicles and several crashes followed.