At least 10 dead after Texas prison bus collides with train
At least 10 people were killed Wednesday when a bus carrying state prisoners skidded off an icy highway overpass in West Texas, slid down an embankment and collided with a passing train, a county sheriff said.
Details of the crash were not immediately clear. Emergency crews in the West Texas town of Penwell, which is 16 miles southwest of Odessa, reported the bus came to rest on its side, crumpled with heavy damage to its top and undercarriage. Reuters reported that the bus was carrying 12 inmates and three corrections officers and was headed to El Paso.
The Texas Department of Criminal Justice identified those killed as eight prisoners and two corrections officers.
Tiffany Harston, spokeswoman for Medical Center Hospital in Odessa, said four of the injured are in critical condition and one is in serious condition.
"It's as bad as you can imagine," Kavin Tinney, a battalion chief, told The Odessa American newspaper. "In 32, years it's as bad as anything I've ever seen."
Tinney compared the accident to the 2012 Midland train crash during a veterans parade.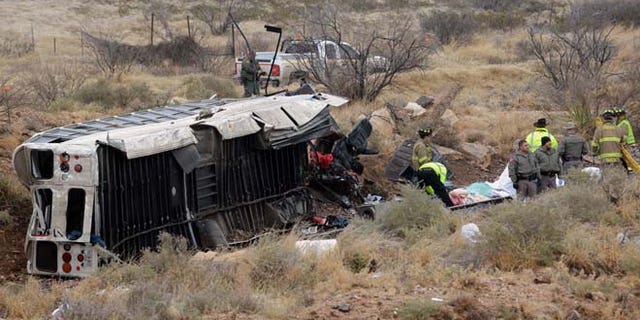 Ector County Sheriff Mark Donaldson says the overpass on Interstate 20 was slick with ice Wednesday morning when the Texas Department of Criminal Justice bus left the roadway just west of Odessa.
"It's with a heavy heart that we mourn the loss of those killed and injured this morning in a tragic accident," said Brad Livingston, executive director of the Texas Department of Criminal Justice. "Their loved ones will be in our thoughts and prayers."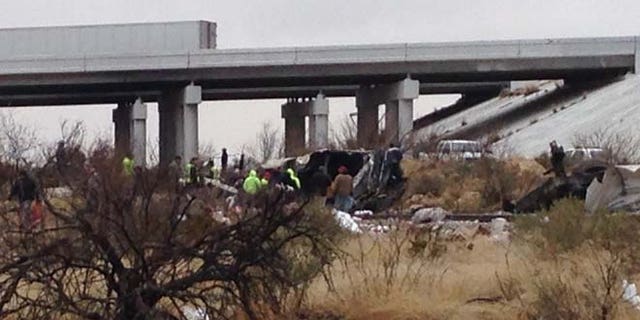 The Union Pacific train was carrying freight and came to a stop shortly after being struck about 7:30 a.m. Two employees on the train were not injured. The newspaper reported that those injured are in critical condition.
State Rep. Tan Parker notified the Texas House of the accident and led a moment of silence.
Texas Lt. Gov. Dan Patrick issued a statement offering condolences to the families of those killed in the wreck.
"I also pray for a speedy recovery of a third correctional staff member and four offenders who were transported with injuries," he said.
In June, an inmate was killed and several other people were injured when a Department of Criminal Justice van collided with a car in Central Texas.
The Associated Press contributed to this report