As people evacuate before hurricane, zoo animals move inside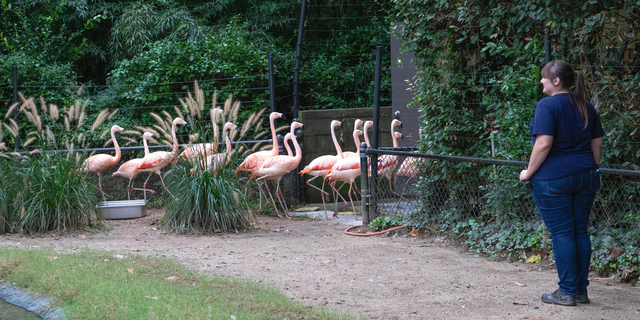 As 1.7 million people were urged to evacuate ahead of Hurricane Florence, workers at the North Carolina Zoo were trying to figure out what to do with 1,600 animals.
Staff at the 500-acre zoo near Asheboro rushed Wednesday to move elephants, giraffes, chimpanzees and hundreds of other species indoors to protect them from the storm's predicted formidable winds and torrential rain.
Spokeswoman Diane Villa said some of the larger animals — including bison and elk — will be put in fenced-in yards because they don't like being in fully enclosed spaces.
But many other animals will be kept in barns.
A crew of zookeepers, veterinarians and park rangers will ride out the storm with the animals.
The zoo, located about 75 miles west of Raleigh, has 500 acres set aside for its animals, making it the world's largest "walk through" natural habitat zoo, Villa said.
The animals usually have lots of room to roam, but as the storm approached, they were being moved to more confined habitats.
"Most of the animals, they do know how to take care of themselves," Villa said. "The ones we're concerned about are being cared for inside."
That includes two chimpanzees named Ruthie and Nori who need to take medication on a regular schedule. Two zookeepers will stay close to the animals to make sure they get their medication on time.
The zoo staff also planned to move 33 kennels housing birds inside, including vultures, sun conures, owls, parrots and an Andean condor.
The staff members will stay in four separate buildings.
"We're bringing out cots and air mattresses," Villa said. "We're just preparing to hunker down with the animals."
The zoo planned to be closed through Friday.
___
For the latest on Hurricane Florence, visit https://www.apnews.com/tag/Hurricanes .