Arson Eyed in Massive West Texas Wildfires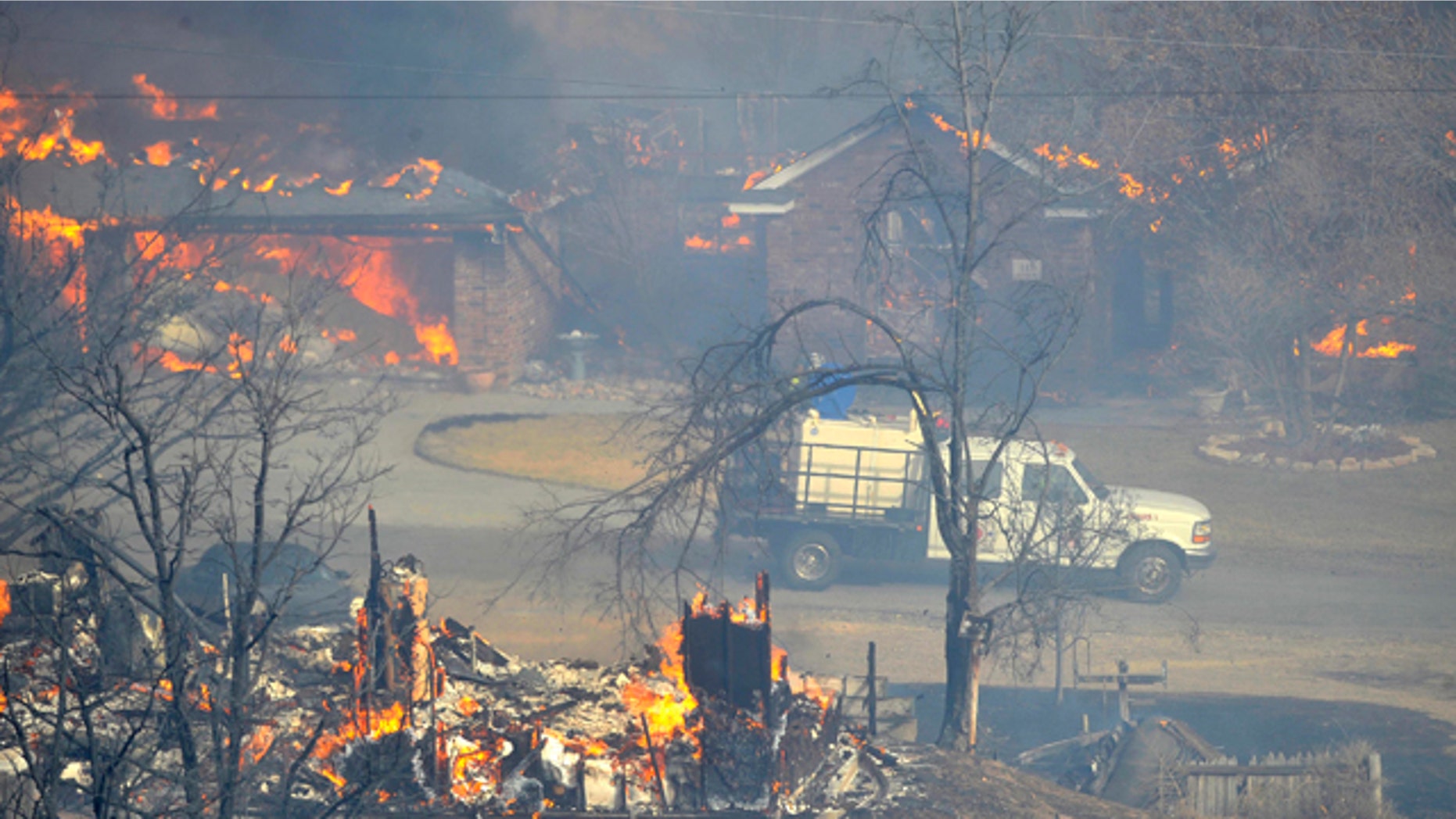 Officials in Texas are investigating whether or not one or more of the wildfires sweeping across large swaths of west Texas were deliberately set.
"Arson may be involved," said Lewis Kearney, spokesman for the Texas Forest Service.

The Texas Forest Service has responded to 25 fires in 15 counties since late last week. Kearney estimates the flames have scorched 120,000 acres. The Texas Department of Public Safety is mapping the burned areas today.
An estimated 60 to 75 homes have been destroyed, thousands of dollars worth of farm equipment has been lost and an untold number of barns, and sheds and miles of fencing have been reduced to ashes, Kearney said.
Stunned and weary residents of one Texas Panhandle town were allowed to return to what was left of homes on Monday, a day after fleeing one of several wind-driven wildfires that scorched some 190 square miles in the state.
Scott Smith and his wife, Carla, said they had already been told their mobile home in rural Mesilla Park was destroyed in the blaze, which started Sunday and burned about 30,000 acres, or 46 square miles, in several communities around Amarillo.
"We had just enough time to get out," said Carla Smith, 59. "My husband's got cancer, and we got away with his medicine."
Her husband said the flames moved "like a blowtorch" across the fields.
Firefighters battled blazes in the Panhandle and West Texas overnight and had contained them by Monday, authorities said. But crews were preparing for new wildfires Monday in the central and southern parts of the state because of the low humidity, warm temperatures and very dry conditions, Kearney said.
The fire near Amarillo was accidentally ignited by a spark from a metal grinder, Potter County Sheriff Brian Thomas said. A man who was not supposed to be in the field where he was cutting pipe was arrested a criminal trespassing charge, a misdemeanor, Thomas said.
Sunday's blazes were aided by 70 mph wind gusts. But weaker winds Monday allowed crews to contain the fires, including a 40,000-acre fire that forced the evacuation of the small town of Matador and a 7,000-acre fire that destroyed 13 homes in Colorado City, Kearney said.
Regina Newby, of Amarillo, said she returned home from an out-of-town trip to learn that the kennel where she boarded her two dogs had caught fire. Kennel workers and firefighters rescued about three dozen animals but had to set others free in their haste to flee the blaze, authorities said.
Mocha, her small mixed-breed, died in the blaze, and Newby found out later Monday that Ginger, her yellow Labrador that had gone missing, also died.
"I know a lot of people lost a lot," Newby said, referring to homes and other property. "It's a small thing (to lose pets), but it's devastating to us."
Palisades Mayor Tommy Medlin said about 25 homes were destroyed in his small town just south of Amarillo. Residents haven't been allowed to return, but were expected to be allowed back Tuesday.
Another seven homes were lost in nearby Lake Tanglewood. Angie Coker, whose home was among those destroyed, cried Monday as she surveyed its charred remains and her melted Porsche in her driveway.
Kevin Knapp, of Lake Tanglewood, was among about a dozen people who took sanctuary at another shelter in Amarillo on Sunday. He said he turned on every sprinkler he could outside his home, but when his wife saw flames across the street, they fled -- grabbing computers they use for their online driver's education business that they salvaged from an office fire just weeks ago.
"It was raining soot," Kevin Knapp said. "I had to get my ski goggles on to be able to see."
Authorities have attributed one death and one injury to the fires. A 5-year-old girl was killed in a car crash Sunday on a smoke-filled highway near Midland, and a volunteer firefighter was injured in Eastland County.
Fox News' Kris Gutierrez and the Associated Press contributed to this report.