Army reservist banned from graduation gets diploma, apology from principal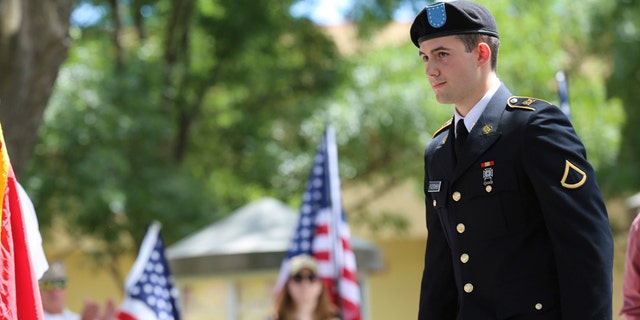 NEWYou can now listen to Fox News articles!
A U.S. Army reservist who was barred from his Northern California high school graduation on Friday for wanting to wear his military uniform had his own private ceremony on Monday after getting a public apology.
Surrounded by more than 100 people – many of them military veterans in uniform who came out to support their fellow serviceman – 18-year-old Harland Fletcher received his diploma.
WEST POINT ALUM FOLLOWS GREAT GRANDFATHER, A CENTURY AFTER HE GRADUATED MILITARY ACADEMY
"The uniform for me means honor, respect, integrity, and it stands for America's freedom," said Fletcher, a private first class reservist with the U.S. Army.
"I didn't really need the apology, but I wanted to send a message that the military is about friendship – brothers and sisters standing together, not just letting someone trample over us," he added.
Liberty High School Principal Patrick Walsh apologized to Fletcher, taking full responsibility for the mishap. He'd initially said the student would have to wear a cap and gown over his uniform if he wanted to participate.
"I made a mistake last Friday, and I don't mince words," Walsh said. "I deeply regret what occurred."
ARMY VETERAN IN NYC REUNITED WITH STOLEN SERVICE DOG
Sgt. Duane Edwards, a Vietnam War veteran, attended the ceremony with the rest of the Marine Corps League of Brentwood. He said he wanted to show his support to the graduating senior after he heard about what had happened on the news.
"What was done was completely in violation of the law," Edwards said. California law gives Fletcher the right to wear his uniform during graduation.
Fletcher's wife, Valentina Fletcher, and their 6-month-old son shared in the special moment.
UNIFORMED MARINE BARRED FROM WALKING IN HIGH SCHOOL GRADUATION CEREMONY
"I think the support is tremendous," Valentina said. "It shows how everyone is here to make sure that the uniform doesn't get disrespected again."
Fletcher is uncertain what he will do in the near future but said he plans to have a long career in the military.
The Associated Press contributed to this report.