Arkansas woman admits to spending public money on pug tuxedo, pet insurance and more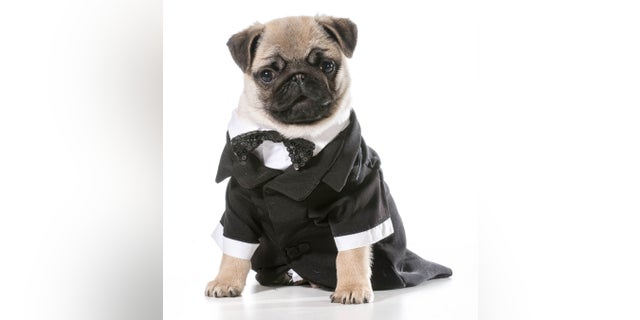 A former administrative assistant to an Arkansas county official pleaded guilty Monday to using public money to buy personal items – including a tuxedo for her pet pug.
Kristi Goss, 44, was slated for trial this week but pleaded guilty to fraudulent use of a credit card.
Authorities accused Goss of fraudulently charging $200,000 to a Garland County credit card on purchases including the dog tuxedo, a diamond bracelet, car payments, tickets to Arkansas Razorbacks sporting events, sequined throw pillows and pet insurance.
Goss had worked as an administrative assistant for Garland County Judge Rick Davis in Hot Springs, about 45 miles southwest of Little Rock.
Davis released a statement confirming Goss was one of his employees. She was fired June 3, 2016, but left the position a month prior, The Sentinel-Record reported.
"The termination process for this employee was initiated according to the steps outlined by counsel from the county attorney and county policy," Davis said. "I hope for swift justice in this situation and hope a message has been sent to all that any and all misconduct and noncompliance with county policy and the law will not be tolerated, and appropriate actions will always be taken to bring justice."
Goss is set to be sentenced Nov. 22, The Sentinel Record reported. A gag order preventing attorneys from speaking publicly about the case will remain in effect until Goss is sentenced.
The Associated Press contributed to this report.