Arkansas parents used kids in jewelry heist, police say
A jewelry heist in northwest Arkansas last Sunday has the attention of authorities because of the young children two parents had do their dirty work.
At least $30,000 worth of jewelry was stolen from Bella Jeweler's in Rogers, located about 200 miles northwest of Little Rock, after a couple brought their three young children into the store and had one of them break into a case.
"It's a real tragedy that they would use their kids to commit this crime," Stephanie Martinez, director of Bella Jewelers, told KFTA-TV. "For us, that's the most heartbreaking part."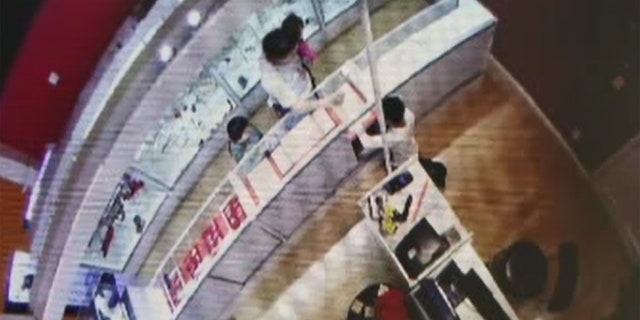 In surveillance video released by the store, the woman is seen pointing at items in the display case that her young son allegedly later grabs.
"The woman kind of kept a look out while her youngest son went around to steal the jewelry," Martinez said. "As she realized that nobody was there, and she got more confident, she started directing him to go back multiple times, and steal more and more jewelry."
Rogers Police told KFTA-TV they haven't seen many cases where children are recruited to shoplift, but store owners should be aware during the busy holiday season for potential thieves.
DNA SKETCH LEADS TO SUSPECT CONFESSION IN TEXAS SLAYING
When they are caught, the parents will be charged with contributing to delinquency of a minor and a court will determine what happens to the kids, according to Officer Keith Foster.
"The juvenile system tries to figure out now what's gonna be in the best interest of the kids, how can we help them make sure this type of stuff doesn't happen again, and whatever the adult system decides for the parents," Foster told KFTA.
The store said they won't let the incident ruin their holiday spirit, and are offering a $1,000 reward for anyone who helps them find the thieves.
"We have a lot of pride in our stores, and what we do. So yes, it is a minor setback, but it's a challenge we know we'll overcome," Martinez said.