Arkansas moves to recovery mode after record flooding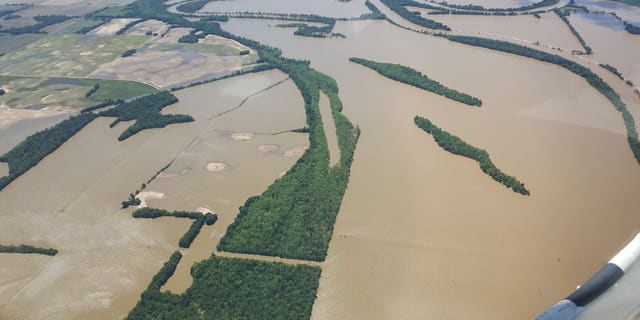 Severe flooding has put homes and livelihoods in danger across parts of the Midwest this week, especially for the hundreds of people forced to evacuate their homes in Arkansas.
Major flooding in Oklahoma, Missouri and Illinois has also triggered extensive damage to homes and businesses.
HOUSE CRASHES INTO ARKANSAS BRIDGE AFTER SEVERE STORMS
At least nine people in the region have died due to flooding and rescue operations are ongoing for an 18-month-old Arkansas girl who is missing.
Arkansas Gov. Asa Hutchinson has activated more than 100 National Guard troops to assist with recovery and rescue operations. State police are also assisting and more than 500 people have been evacuated.
TEXAS DAY CARE DESTROYED IN FIRE
"It's really extraordinary that five rivers have breached their banks and there's substantial flooding in multiple counties in Northeast Arkansas," Hutchinson said. "As a result of that I've declared a state of emergency in about 20 counties in the state."
Hutchinson said there were nine levee breaches on Wednesday forcing water to flow into new areas. He noted that water in some of the affected areas has started to recede, but homes and business have been damaged.
Parts of Pocahontas, Ark., one of the hardest hit areas of the state was put under a mandatory evacuation order.
In Randolph County where the 5 rivers are flooding Pocahontas. Here is a pic of Walmart from the air. Mandatory evac for part of city.. pic.twitter.com/ZwYkewe00V

— Gov. Asa Hutchinson (@AsaHutchinson) May 2, 2017
The Black River rose to a record 28.95 feet before spilling over levees, according to National Weather Service meteorologist Gary Woodall. The previous record was 28.5 feet.
Woodall notes that rain is expected to move out of the region, but flooding in the area could last into next week.
"While we don't see a lot more water coming into the drainage basin, what's there is going to persist for a long time," Woodall said. "So it's going to be a slow process as far as recovering and getting those water levels back down below flood stage."
The American Red Cross of Arkansas has set up four shelters and started serving hot meals to those affected by the flooding.