Arkansas hotel frequented by mobsters in jeopardy of closing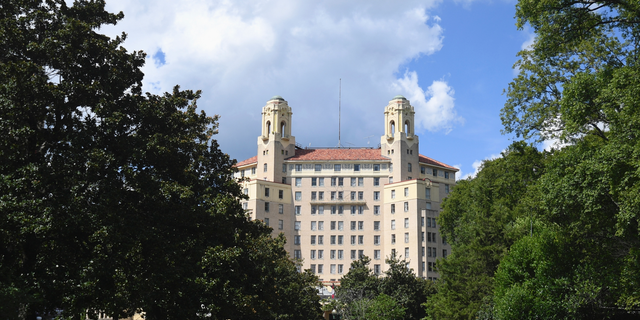 HOT SPRINGS, Ark. – A landmark Arkansas hotel frequented by Al Capone and other mobsters is in jeopardy of closing.
Safety concerns are threatening to shutter the Arlington Hotel and Spa in Hot Springs, a city about 50 miles (80 kilometers) southwest of Little Rock, The Sentinel-Record reported . Capone frequented the hotel so often in the 1930s that the Chicago mobster had his own suite, still known among some guests as "Al's Suite."
But the city has temporarily closed 47 hotel rooms because of electric violations and other issues discovered during an inspection this month. The city is threatening to close the hotel if the safety concerns aren't addressed by November.
The hotel also must remedy numerous fire code violations found by the Hot Springs Fire Department. Fire Chief Ed Davis said the department's recent inspection was a follow-up from April.
"The Arlington is almost 100 years old, and it's at a point now to where the level of maintenance that is going on isn't keeping up with the deterioration," Davis said.
The city said exterior issues with the hotel that were detailed in a 2016 engineering report pose the most critical safety hazard. Chief Building Official Mike Scott said the city wants the issues corrected before outdoor temperature drop below freezing.
"The plaster is cracked and could come loose, especially during the freeze-and-thaw cycle this winter," Scott said. "There's bricks with cracks and separation that water can get behind. When it freezes, it causes things to heave outward. Some of this stuff could fall off."
City Manager David Frasher said poor condition of the hotel's exterior forced the city to act.
___
Information from: The Sentinel-Record, http://www.hotsr.com