Arizona police officer struck, killed by driver who was texting, officials say
An Arizona police officer who was conducting a traffic stop was killed Tuesday night after he was struck by a driver who was texting at the time of the collision, officials said Wednesday.
Jerry Sanstead, 40 was arrested on charges of manslaughter, aggravated assault with a deadly weapon and endangerment following the crash that killed Salt River police officer Clayton Townsend, Arizona Department of Public Safety said.
"During the investigation on scene, the driver of the black passenger car told AZDPS detectives he had been texting during the time his vehicle entered the right-side emergency lane and struck the police officer," officials said in a news release.
OFFICERS KILLED IN THE LINE OF DUTY IN 2018
Townsend stopped a white vehicle for expired registration on Loop 101 just after 6 p.m. Tuesday when a black car swerved into the right-side emergency lane and struck the officer, officials said. Townsend was standing outside the driver's side of the white vehicle when he was hit.
The officer was taken to the hospital with head trauma and later pronounced dead. The driver of a white vehicle involved in the traffic stop was also hospitalized with non-life-threatening injuries.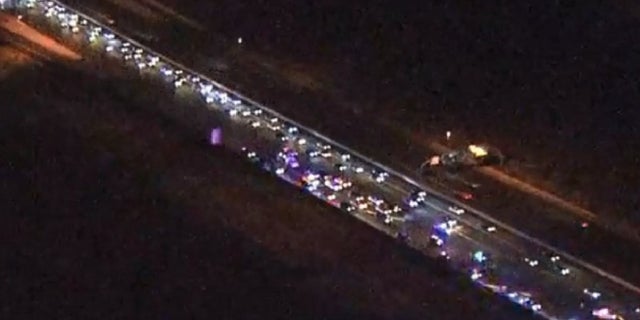 Along with Sanstead's statement, a witness also told detectives the 40-year-old was looking at his phone before he swerved into the emergency lane and struck the other vehicle and Townsend.
FLORIDA POLICE OFFICER RESIGNS AFTER SENDING FAKE BOMB THAT SPARKED EVACUATION
"I am sorry to report the death of a Salt River Tribal Police Officer tonight. Details are still being realized, but it appears he was struck and killed by a car, while on a traffic stop on SR101 near McDowell Rosd. @Arizona_DPS Troopers are conducting the investigation," Arizona of Public Safety Director Col. Frank Milstead said in an initial tweet.
CLICK HERE TO GET THE FOX NEWS APP
Townsend, who had been with the department for five years, leaves behind a wife and 10-month-old child, FOX10 reported.