Arizona police officer dies unexpectedly during suspect chase, report says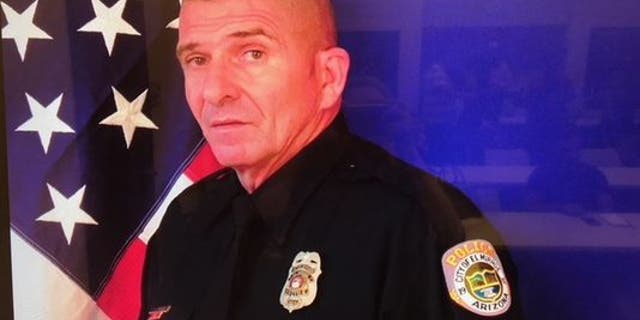 NEWYou can now listen to Fox News articles!
A police officer in Arizona died of a seizure Tuesday while pursuing a suspect, the police chief told ABC 15.
Officer Paul Lazinsky, 58, of the El Mirage Police Department, was reportedly chasing a wanted juvenile suspect on foot when he was struck with the fatal seizure. He was initially treated on the scene before being taken to the hospital, where he was pronounced dead, AZ Central reported.
Police Chief Terry McDonald confirmed Lazinsky's death, calling it "absolutely tragic," the outlet said.
The suspect, who officials said was caught, could potentially face charges in the officer's death but McDonald said that was not yet determined, according to AZ Central.
FLORIDA MAN DRAGGED, KICKED AND PUNCHED DEPUTY BEFORE HE WAS SHOT BY POLICE, VIDEO SHOWS
Lazinsky was a 17-year veteran of the El Mirage Police Department and was expected to retire in ten months, ABC 15 reported. Before becoming a police officer, he served in the U.S. Army for 20 years, the outlet said.
According to Fox 10, police officials did not provide additional details into the incident because of an open investigation by the Arizona Department of Public Safety.
Lazinsky, a father of three, is survived by his wife, children and two siblings, ABC 15 said.