Arizona man picked up newborn fawn, took it to local bar, officials say
An Arizona man got a little too close to nature during the weekend, after officials said he found a newborn fawn Saturday and brought it along to a local bar to show his friends.
The Arizona Game and Fish Department said in a news release Monday that the little baby deer was born late last week -- but his life forever changed when a stranger thought he was doing the right thing.
The unknown man stopped off at a local bar to show the fawn off and see if anyone wanted to take it home, before the agency was contacted. The newborn can now no longer live in the wild, officials said.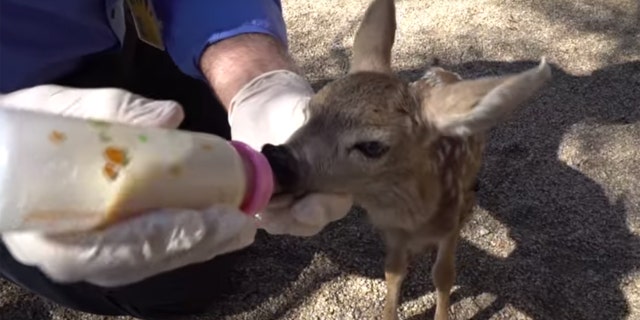 "Who would take a deer fawn out of the wild and into the bar? I would say that is a new one, we hear a lot of things, but that definitely isn't one that's normal," Kellie Tharp, Chief of Education at AZGFD, told FOX 10 Phoenix.
Officials say the fawn needs constant care now in order to survive, with feedings "every three to four hours."
"Now that the fawn's been in our care, you see that it was being bottle fed, it's being imprinted," Tharp said. "It's relying on humans, it doesn't have a fear of humans so this fawn is non-releasable."
The department will keep the fawn for a few days to ensure it is healthy and feeding well, then it will ultimately be transferred to a wildlife sanctuary in Arizona.
Mike Demlong, AZGFD Wildlife Education program manager, told the Arizona Republic nobody at the bar knew the man who brought in the baby deer, so they won't be pursuing an investigation.
Officials are also inviting people to help name the fawn by visiting the AZGFD Facebook page to leave a comment.
Wildlife officials stress what happened to the fawn is an important lesson on what not to do when coming across wildlife.
"A lot people are going to think 'Oh, what a great pet that would make.' Believe me, it's a lot of work, I would rather see them in the wild," Tharp told FOX 10. "Although its cute, it's best to leave the fawn where you found it."