Arizona Man Fights to Keep Gadsden Flag Flying Outside His Home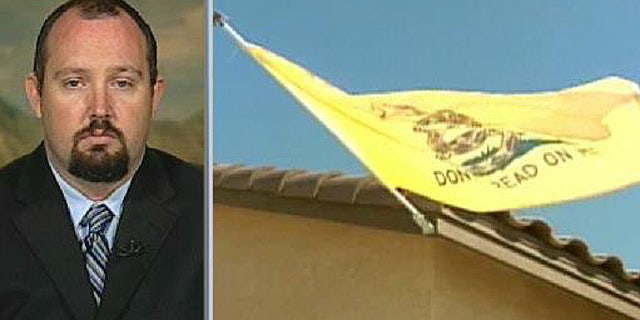 An Arizona man fighting to keep a historical American flag flying outside his home vows he will not take it down unless a judge orders him to.
Andy McDonel of Leveen, Ariz., says he received a letter from his homeowner's association, Avalon Village Community Association, on Aug. 6 instructing him to "remove debris" from his suburban Phoenix home within 10 days or face a $25 fine.
"They were talking about the Gadsden flag," McDonel told Fox News on Wednesday. "I fly it to honor the Founding Fathers of America, you know, the perseverance they went through. They sacrificed their honor, their lives and their fortune to establish this great nation."
The yellow Gadsden flag, which depicts a coiled snake and the words "Don't Tread on Me," was designed by American statesman Christopher Gadsden and first appeared in 1775. It has been reintroduced by numerous groups -- most recently by the Tea Party movement -- as a symbol of American patriotism.
In a statement to FoxNews.com, the executive director of the Arizona chapter of the American Civil Liberties Union, said homeowners' associations do not have the power to "hijack" Arizonans' free speech rights.
"Many people in this state live under the rule of homeowners' associations," Alessandra Soler Meetze said. "But HOAs don't have the power to hijack Arizonans' free speech rights. The Arizona Legislature recognized the importance of protecting the right to free expression, which is why they passed the law allowing individuals to fly American flags and those of the armed forces. We believe Mr. McDonel should be allowed to display the Gadsden flag as a show of his patriotism. The ACLU of Arizona will investigate this matter further to see how we can help safeguard Mr. McDonel's fundamental rights."
McDonel says he's been told his 3-by-5 flag doesn't meet requirements, but he cited Arizona statutes that allow for the display of U.S. flags, military flags, the Arizona state flag or tribal nation flags. Unless a judge or a relevant authority orders him to take the flag down, McDonel said, he'll continue to fly it.
"This falls under a military service flag," McDonel said. "I think they're associating it with a political movement going on right now. The history and the significance of the flag far supersedes any political movement that's going on."