Arizona girl, 4, dodges bullet at barbershop on video
Two people were arrested Tuesday after shots were fired at an Arizona barbershop where surveillance video captured the bullets narrowly missing a girl.
The girl, 4, was in the Paisanos Barber Shop in a Chandler strip mall about 11 a.m. Monday, according to police. Surveillance video showed her dancing toward the front of the store and taking a seat to watch television.
FLORIDA POLICE OFFICER CHARGED IN SHOOTING OF AUTISTIC MAN'S CARETAKER
Moments later, three shots were fired and just missed the girl's head. She sprinted away from the window, but was cut by flying glass fragments, according to Fox 10 Phoenix.
The girl was taken to the hospital and treated for non-life threatening injuries.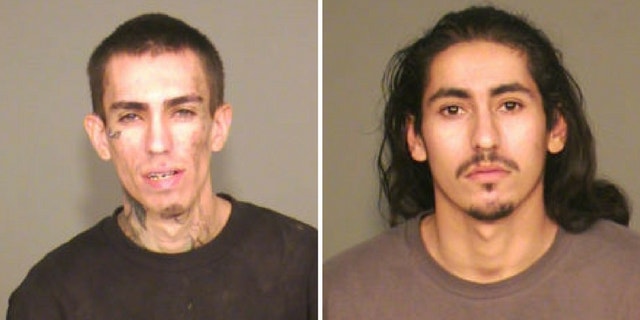 PENNSYLVANIA MAN HID IN CLOSET, ATTACKED ESTRANGED WIFE AND HER BOYFRIEND, POLICE SAY
The shooting comes as a 12-year-old boy was nearly shot outside a New York City barbershop on Tuesday. Police believe the gunman was targeting the boy, according to CBS New York.
On Tuesday, Michael David Hart, 23, and Rafael Santos, 21, were arrested in connection with the Arizona shooting, police said.
The shooting started when Hart, Santos and an unidentified man got into an argument with a tattoo artist in Damaged Ink Tattoo -- next door to the barbershop -- the day earlier.
The tattoo artist asked Hart to leave the parlor and come back at a later time, according to police.
The three men left the shop and got into their vehicle, but stopped in front of the parlor where Hart allegedly fired his gun, striking the barbershop, police said.
Hart was immediately identified by the parlor because of his distinct neck tattoo, Fox 10 reported.
The two men were arrested and face aggravated assault and endangerment charges.