Arizona bus strike settled after four-day work stoppage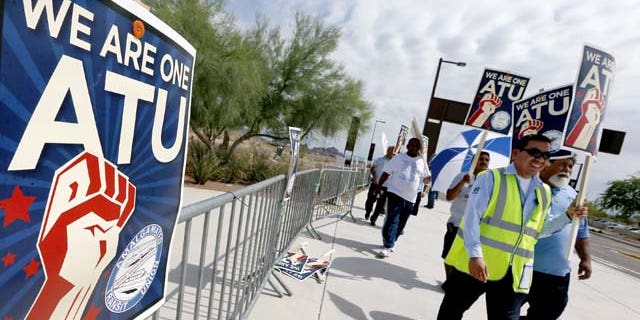 PHOENIX – Tens of thousands of people who rely on buses service to get around Phoenix's eastern suburbs will have rides again Monday after drivers reached a tentative three-year agreement with a national bus company to end a four-day strike.
Bob Bean, president of Amalgamated Transit Union Local 1433, said the deal that the union struck with First Transit on Sunday afternoon is favorable for the drivers and will let bus service resume in time for Monday morning's commute.
Bean declined to provide details of the agreement and said union members will have to ratify the agreement within the next week and a half.
Nick Promponas, senior vice president for First Transit Inc., said in a statement that the company is confident that the deal serves the interest of the union employees, people who ride the buses and the company.
"While we regret that a strike was not averted during the course of the negotiations, we appreciate that the (Amalgamated Transit Union) has shared our desire to resume transit service throughout the community as quickly as possible," Promponas said.
Bean said picketing has now ended.
The agreement was reached after a 32-hour negotiating session that was aimed at resolving the dispute between the 560 drivers and the company.
Some 40 routes in Chandler, Gilbert, Mesa and Tempe were shut down when the work stoppage began Thursday. Express routes from those cities to Scottsdale and Phoenix were also affected.
The routes serve some 57,000 riders daily, including many workers without cars who can't walk miles to their jobs in the summertime heat.
First Transit took over operations July 1 after winning a three-year contract from the Valley Metropolitan Regional Transit Authority with options for seven additional years in January.
The new contract combined operations in Mesa and Tempe that serve the eastern Phoenix suburbs and involved savings of $36 million over the previous contract by operating both parts of the system together and streamlining operations. Union officials said it cut $77 million over 10 years.
Drivers have said job security has been their biggest issue with First Transit since the new transit contract would override First Transit's proposed deal with the union.
First Transit has said it offered higher wages and lower health care costs.
In March 2012, a strike crippled bus service in metropolitan Phoenix for six days before it was settled.