Apparent tornadoes hit Florida, Mississippi as snow moves into Northeast
Suspected tornadoes touched along Florida's Panhandle and in Mississippi on Monday, destroying up to 10 homes, and sending fire crews out to investigate reports of residents trapped under rubble.
The tornadoes were associated with the southern part of a large winter storm system that brought the eastern U.S. snow, sleet, strong winds and rain, and which came on the heels of record-breaking low temperatures.
The National Weather Service in Mobile, Alabama confirmed a tornado touchdown near Century, Florida, located in the northwest corner of the state's panhandle region, Fox 10 reported.
Escambia County Sheriff's Deputy Mark Dewes saw the apparent twister that hit Century, Florida, from his patrol car. He said an entire uprooted pine tree flew in front of the car before he turned away from the storm.
Of the tornado, Dewes says he has "never seen one form that big and that fast." Ben Boutwell is president of the Century City Council.
He took shelter with his family in the center of his home as the storm passed, saying he heard "that typical roar, like a train."Boutwell said homes about four blocks away from him had major damage.
He said emergency crews were conducting a search and rescue in the neighborhood.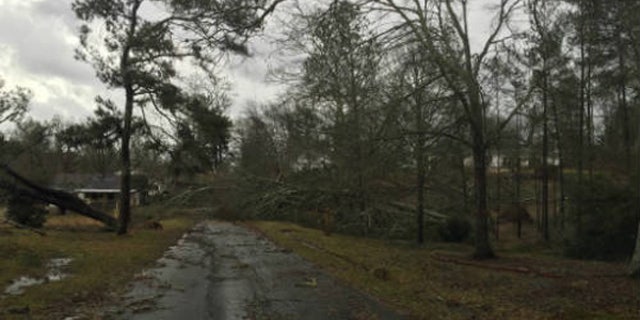 Escambia County spokeswoman Joy Tsubooka told the Associated Press the storm destroyed or significantly damaged about 10 homes.
Tsubooka added that fire crews were investigating reports that some residents may have been trapped in the rubble of destroyed homes, but she said several of the reports had already proved to be unfounded. She said some people had reported minor cuts from flying debris but that she had not received any reports of serious injuries.
Gulf Power reported on its website that about 800 people in Century were without electricity.
The Mississippi Emergency Management Agency received reports of storm damage from 20 counties from severe weather that moved through the state Monday, with minor injuries being reported in Lincoln County,WBDB/WLBT-TV reported.
Windows were blown out of cars and two gymnasiums and a library were damaged at a K-12 school in Wesson where children were in attendance when heavy thunderstorms and a possible tornado passed through.
There were no reports of any students injured, Mississippi Department of Education spokeswoman Patrice Guilfoyle told the AP.
More than 18,000 power customers in Mississippi were without power as of Monday night.
In the eastern U.S. on Monday, a day after record low temperatures plunged several states into a deep freeze, wet weather including snow, freezing rain and sleet were pummeling the region.
National Weather Service meteorologist Bruce Sullivan said there could be significant snowfall — 4 to 8 inches — in eastern Ohio, western Pennsylvania and western New York. Some mountainous areas could get even more snow.
With federal offices and many businesses closed for Washington's Birthday, though, many people were able to hunker down at home.
In Virginia, the state police asked motorists to delay any unnecessary travel until weather conditions could improve. By late afternoon, authorities were on the scene of 37 traffic crashes statewide, including a fatal crash in Fauquier County. Troopers also were responding to nine disabled vehicles across Virginia. They already had responded to 538 traffic crashes and 347 disabled vehicles for the day.
In North Carolina, light freezing rain, sleet and snow caused wrecks and closed schools and businesses. The National Weather Service said the precipitation was light Monday morning, but with temperatures in the 20s, it was freezing immediately on bridges, roads and other surfaces.
By Tuesday, when temperatures get higher, the rain and some runoff could cause flooding in some areas, Sullivan said.
Sunday's teeth-chattering temperatures were some of the coldest on record.
In several Northeastern cities — including New York, Boston and Hartford, Connecticut — temperatures on Sunday morning dipped below zero, falling to minus 40 on Mount Washington in New Hampshire.
The National Weather Service said the temperature in New York City's Central Park fell to minus 1, a record low for the date. The last time it was below zero in Central Park was in January 1994.
Boston reached minus 9, breaking the record set in 1934 by 6 degrees. It reached minus 16 in Worcester, Massachusetts, breaking the 1979 record of 11 below zero. Providence, Rhode Island, hit minus 9 and Hartford reached minus 12, also breaking records from 1979.
In Montpelier, Vermont, the overnight temperature hit minus 19, tying a record set in 2003. And South Lincoln, Vermont, recorded 27 below zero.
Outreach teams brought 105 people into New York shelters, and 288 showed up at hospitals and health facilities, including more than 20 who were brought in for care needed immediately, New York Mayor Bill de Blasio said.
The Associated Press contributed to this report.
Click for more from Fox10TV.com.
Click for more from MSNewsNow.com.