Apocalyptic Scene in California as Wildfires Burn Hundreds of Homes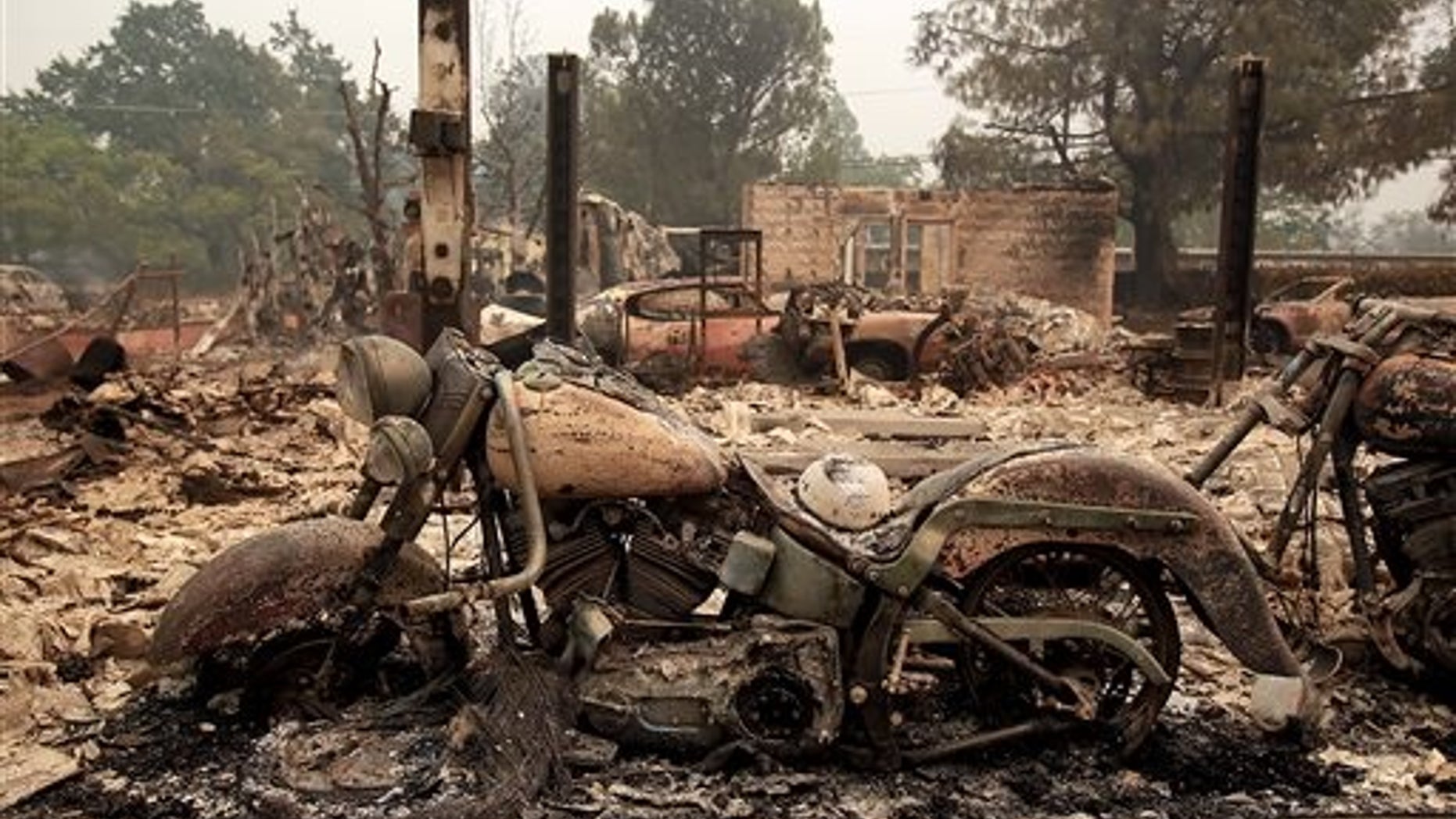 Fires in California exploded this weekend. CA Governor Jerry Brown has declared a state of emergency. Four firefighters hurt. One person is dead.
The Valley fire in Napa and Lake Counties have forced evacuations and destroyed hundreds of homes. Several blocks of Middletown are simply gone. 400 homes are destroyed.
There's also a fire southeast of San Francisco called the Butte fire. .  A nearby fire has destroyed 81 homes.
There's new polling of the 2016 race from the Washington Post/ABC News that suggests Donald Trump is dominating the Republican field getting 33% of registered Republicans and Republican-leaning independents. Ben Carson is second with 20%. Both have seen their numbers surge between 9 and 14% since July. Jeb Bush gets 8%. Cruz, Rubio each get 7%. No one else is above 5%. Walker has fallen from 13% to just 2% support.
There's also bad news for Hillary Clinton even though she remains the front-runner. Clinton's support has dropped below 50% for the first time as her support among white women is eroding.
Hillary gets 42% of registered voters among Democrats and Democratic-leaning voters. Bernie Sanders gets 24% and Biden (who hasn't yet decided on a run) gets 21%. If Biden doesn't run, Hillary's support jumps to 56%.
There's new reporting on the possibility of Biden jumping into the race. He apparently met in secret with an Obama campaign finance bundler over the weekend as some are reporting he won't decide until late October or even November.
NJ Governor Chris Christie has events today in New Hampshire.
Wisconsin Governor Scott Walker unveiling a proposal to end federal employee unions.. as he continues to drop in national and state polls.
Bernie Sanders speaks at Liberty University in Virginia. Liberty is a conservative Christian University founded by Rev Jerry Falwell. It's where Ted Cruz declared his candidacy.
Hillary Clinton campaigns today in Waterloo, Iowa.
The Wall Street Journal has a fascinating piece today by Monica Langley headlined, "DONALD TRUMP'S ONE-MAN ROADSHOW --- GOP hopeful soars amid rivals' hostility; 'Everybody who attacks me is doomed'
Langley writes, "The 69-year-old billionaire has soared to the top of the Republican field flying solo -- a man and his plane, propelled forward by a gust of free media attention and virtually devoid of the staff, position papers, opposition researchers and ad budgets of modern campaigns. Now, though, with the time for summer flings ending and more serious voter examination just ahead, the Trump effort has reached an inflection point, at which he must decide whether he can continue to prosper as this kind of one-man show or whether the time for that is running out. Travels and extensive conversations with Mr. Trump in recent weeks show that, while he is slowly beginning to bend to some candidate norms -- opening state offices, readying ballot-access drives and preparing a tax plan -- he continues to resist the experts' view that he needs a conventional campaign apparatus."
President Obama and Education Secretary Arne Duncan are in Iowa today pushing changes to the college financial aid system.
Germany has instituted border checks as hundreds of thousands of refugees from Africa and the Middle East continue to pour into Europe.
Egypt accidentally killed at least 12 people from Mexico. Another 10 were wounded after Egyptian Security forces opened fire on a caravan of vehicles thought to be carrying terrorists. They were tourists.
Taliban terrorists stormed a prison today near Ghazni, Afghanistan freeing some 350 inmates and killing several police officers.
Three detained in the Bangkok shrine bombing.
European stocks are higher, and Dow futures point to a higher opening despite continued weakness (and sell-offs) in Asia.
For more news, follow me on Twitter: